BOTANICAL NAME: Pongamia pinnata
FAMILY: Leguminosae
CLASSICAL CLASSIFICATION
Charaka- Kandughana, Katuka skandha
Shushruta- Aragvadhadi, Varunadi, Arkadi, Shyamadi varga, kaphasamshaman.
ENGLISH NAME: Smooth leaved pongamia
COMMON NAME:
Hindi- Dithouri, Karuaini
Bengali- Nata Karanja, Dahara Karanja
Punjabi- Karanj
Kannada- Honge, Hulagilu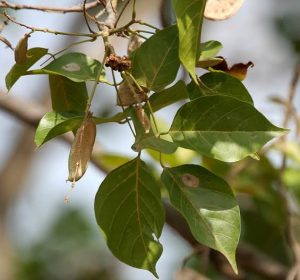 REFERENCE: BHAVAPRAKASH SAMHITA with link e Nighantu:
https://niimh.nic.in/ebooks/e-Nighantu/bhavaprakashanighantu/?mod=read
करञ्जो नक्तमालश्च करजश्चिरबिल्वकः |

घृतपूर्णकरञ्जोऽन्यः प्रकीर्यः पूतिकोऽपि च |

स चोक्तः पूतिकरञ्जः सोमवल्कश्च स स्मृतः ||१०३||

करञ्जः कटुकस्तीक्ष्णो वीर्योष्णो योनिदोषहृत् |

कुष्ठोदावर्तगुल्मार्शोव्रणक्रिमिकफापहः ||१०४||

तत्पत्रं कफवातार्शःकृमिशोथहरं परम् |

भेदनं कटुकं पाके वीर्योष्णं पित्तलं लघु ||१०५||

तत्फलं कफवातघ्नं मेहार्शःकृमिकुष्ठजित् |

घृतपूर्णकरञ्जोऽपि करञ्जसदृशो गुणैः ||१०६||
HABITAT: Found throughout India.
BOTANICAL DESCRIPTION: It is a medium sized almost evergreen tree with spreading crown met all over India. Trunk- short, white; bark-soft, grey; leaves – 5-7, 5-12cm long; fruit- legume, thick, woody, 1-2 seeded.
Flowering time: May-june
Fruiting time: April of following year
AYURVEDIC CHARACTERSTICS:
| | | | | | |
| --- | --- | --- | --- | --- | --- |
| RASA | GUNA | VEERYA | VIPAKA | PRABHAVA | DOSHGHNTA |
| Katu, Tikta | tiksna | Usna | Katu | kaashara, kushtghana, shothhara. | Kapha Vatta ghana,. |
AYURVEDIC ENERGETICS:
TASTE

PROPERTY

POTENCY

POST DIGESTIVE EFFECT

EFFECT ACTION

DOSHA ACTION

Pungent,

bitter

Sharp

Hot

Pungent

Expectorant,

Cure skin diseases, anti- inflammatory

Balances kapha vatta
MAJOR CHEMICAL CONSTITUENTS: Fixed oil, flavones and traces of essential oil.
THERAPEUTIC USES:
Skin diseases– Its oil is used in the treatment of skin diseases.
Healing of wounds- Its oil is applied externally to shrink pile mass and to heal wound.
Insect bite- The fresh leaf juice of plant is applied over the lesions of wasp bite or insect bite.
INDICATIONS
Vrana wound healing, Krmi Worm infestation, Kustha Skin diseases, Kashara Expectorant.
USEFUL PART: Twak, patra, beej.
DOSAGE: 0.25 g of the drug in powder form, 5-10 g of the drug for decoction.
AYURVEDIC FORMULATION:
Karanjaadi churna
Karanjaadi taila