BOTANICAL NAME: Momordica charantia
FAMILY: Cucurbitaceae
CLASSICAL CLASSIFICATION
Charaka- Tikta skanda
Shushruta- Aragwadadi gana
Bhavaprakasha- Shaka varga
ENGLISH NAME: Bitter gourd
COMMON NAME:
Hindi: Karela
Kannada: Hagalakai
Punjabi: Karela
Bengali: Karolla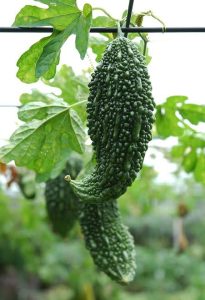 REFERENCE: BHAVAPRAKASH SAMHITA with link e Nighantu:
https://niimh.nic.in/ebooks/e-Nighantu/bhavaprakashanighantu/?mod=read
कारवेल्लं कठिल्लं स्यात्कारवेल्ली ततो लघुः |

कारवेल्लं हिमं भेदि लघु तिक्तमवातलम् |

ज्वरपित्तकफास्रघ्नं पाण्डुमेहकृमीन्हरेत् |

तद्गुणा कारवेल्ली स्याद्विशेषाद्दीपनी लघुः ||५२||
HABITAT: Throughout India.
BOTANICAL DESCRIPTION: Fruit 2.5 – 25 cm long, oblong, pendulous, fusiform, usually pointed or beaked, ribbed and bearing numerous triangular tubercles, 3 valved at the apex when mature, surface rough; light green to green in color containing numerous seeds; taste extremely bitter.
AYURVEDIC CHARACTERSTICS:
| | | | | | |
| --- | --- | --- | --- | --- | --- |
| RASA | GUNA | VEERYA | VIPAKA | PRABHAVA | DOSHGHNTA |
| Katu, Tikta | Laghu | Usna | Katu | Deepan | Kapha pitta shamaka |
AYURVEDIC ENERGETICS:
TASTE

PROPERTY

POTENCY

POST DIGESTIVE EFFECT

EFFECT ACTION

DOSHA ACTION

Pungent

Bitter

Light

Hot

Pungent

Induce appetite

Balances kapha and pitta
MAJOR CHEMICAL CONSTITUENTS: Alkaloid (Momoridicine) and Glycosides.
THERAPEUTIC USES:
Diabetes- The juice of the fresh fruit of karavellaka is given in a dose of 20-25ml to reduce blood sugar.
Eczema- The paste of the leaf of karvellaka is applied over the area affected with skin disease.
Wound healing and external pile mass- The paste of leaves is applied to treat wounds and external pile mass.
Purifying breast milk- The juice of fruit and leaves of karavellaka is given to treat conditions of Amenorrhea and to purify the breast milk.
INDICATIONS
Svasa Asthma and COPD, Jvara Fever, Kamala Jaundice, Krmiroga Worm infestation, Kustha Skin diseases, Pandu Anemia, Prameha Diabetes. Raktavikara Blood diseases, Aruci Indigestion.
USEFUL PART: Panchaang.
DOSAGE: 10 – 15 ml. juice of fresh drug
AYURVEDIC FORMULATION:
Mahavisagarbha Taila.