BOTANICAL NAME: Nerium indicum Mill
FAMILY: Apocynaceae
CLASSICAL CLASSIFICATION–
Charaka- Kusthaghana, Tiktaskanda
Shushruta- Lakshadi, Sirovirechana gana
ENGLISH NAME: Indian Oleander
COMMON NAME:
Hindi: Kaner, Kanail
Bengali: Karavi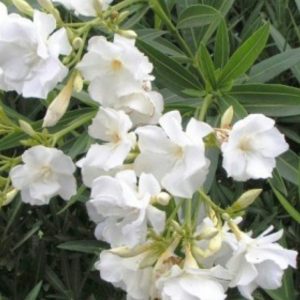 REFERENCE: BHAVAPRAKASH SAMHITA with link e Nighantu:
https://niimh.nic.in/ebooks/e-Nighantu/rajanighantu/?mod=read
चतुर्धा करवीरोऽथ धत्तूरत्रितयं तथा |

कोविदारोऽब्धिरर्कः स्यान्नमेरुः किंशुकस्तथा ||१||
HABITAT: Gangetic plains, Himalayas, from Nepal to Kashmir upto 2000 m. Central and Southern India, also cultivated near temples and gardens.
BOTANICAL DESCRIPTION: An evergreen shrub with silvery-grey bark. Leaves usually in whorls, linear-Lanceolate Or oblong. Flowers – Red, white or rose coloured generally sweet-scented. Sepals broad-subulate. Corolla funnel -shaped, lobes spreading, overlapping to the right. Stamens near the top of the stigma, calls with long twisted appendages.
AYURVEDIC CHARACTERSTICS:
| | | | | | |
| --- | --- | --- | --- | --- | --- |
| RASA | GUNA | VEERYA | VIPAKA | PRABHAVA | DOSHGHNTA |
| Katu, Tikta, Kashaya | Laghu, Ruksa,Tiksna | Usna | Katu | | Kaphavatasamaka |
AYURVEDIC ENERGETICS:
TASTE

PROPERTY

POTENCY

POST DIGESTIVE EFFECT

EFFECT ACTION

DOSHA ACTION

Pungent

Bitter

Astringent

Light

Dry

Sharp

Hot

Pungent

Pacifying kapha and vata
MAJOR CHEMICAL CONSTITUENTS: Cardiac glucoside (oleandrin).
THERAPEUTIC USES:
Chakshushya- Leaf juice extract is used as eye drops to eye inflammation.
Syphilis-Its root paste is applied over the wounds.
INDICATIONS
Hrdroga cardiac disorders, Jvara Pyrexia, Krmiroga Worm infestation, Kandu Itching, Kustha Skin diseases, Netraroga Eye diseases, Vrana Ulcers.
USEFUL PART: Root
DOSAGE: 30-125 mg of the drug in powder form.
AYURVEDIC FORMULATION:
Kasisadi Taila