BOTANICAL NAME: Capparis decidua Edge
FAMILY: Capparidaceae
CLASSICAL CLASSIFICATION
Charaka- Phala varga
Shushruta- Tikta varga
ENGLISH NAME: Capparis decidua
COMMON NAME:
Hindi- Kareel, karir, Kair
Kannad- Chipaauri, Chippuri
Punjabi- Kareem
PLANT IMAGE with Unique Identification Feature: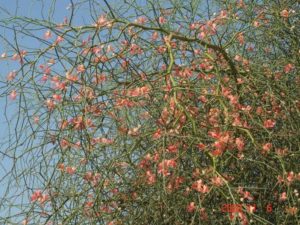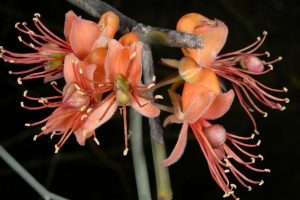 REFERENCE: BHAVAPRAKASH SAMHITA with link e Nighantu:
https://niimh.nic.in/ebooks/e-Nighantu/bhavaprakashanighantu/
करीरः क्रकरोऽपत्रो ग्रन्थिलो मरुभूरुहः |

करीरः कटुकस्तिक्तः स्वेद्युष्णो भेदनः स्मृतः |

दुर्नामकफवातामगरशोथव्रणप्रणुत् ||५२||
HABITAT: It is found in Uttar pradesh, Madhya Pradesh, Rajasthan, Punjab and other regions of similar geographical conditions. Central India and the Deccan, extending westward to Arabia, Nubia and Egypt.
BOTANICAL DESCRIPTION:
Nearly leafless glabrous shrubs or small trees, much branched. Leaves only a young shoots, glabrous pungent, linear – oblong with spinescent apex. Flowers red or scarlet. Outer sepals subvalvate, ciliate, inner very sarcate. Stamens-18 to 20 . Fruits globose, smooth and red when ripe .
AYURVEDIC CHARACTERSTICS:
| | | | | | |
| --- | --- | --- | --- | --- | --- |
| RASA | GUNA | VEERYA | VIPAKA | PRABHAVA | DOSHGHNTA |
| Katu, tikta | Laghu, ruksa | Usna | Katu | Arsho ghana | Kaphavatasmaka |
AYURVEDIC ENERGETICS:
TASTE

PROPERTY

POTENCY

POST DIGESTIVE EFFECT

EFFECT ACTION

DOSHA ACTION

Pungent, Bitter

Light

Dry

Hot

Pungent

Hemorrhoids

Balances kapha and vatta
MAJOR CHEMICAL CONSTITUENTS: Glucoceprin, capparine, Flavons.
THERAPEUTIC USES:
Pain- Flowers of kareer are used to pacify vata dosha.
INDICATIONS
Garavisha chronic poisoning, Shopha Inflammation, Krumi Worm infestation, Vrana Wounds or ulcers, Swedya increases sweating.
USEFUL PART: Root Bark, fruits, stem oil.
DOSAGE: Decoction 50-100 ml, powder 1-3 gm.
AYURVEDIC FORMULATION:
1. Karira decoction
2. Karira powder