BOTANICAL NAME: Cinnamonum camphora
FAMILY: Lauraceae
ENGLISH NAME: Camphor tree
COMMON NAME:
Hindi: Karpur
Bengali: Karpur
Kannad: Pache Karpura
: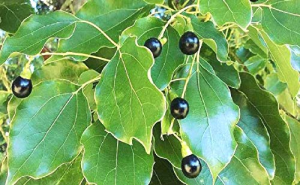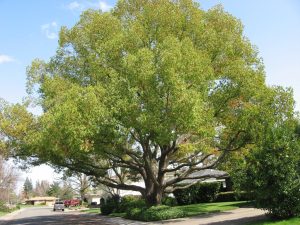 REFERENCE: BHAVAPRAKASH SAMHITA with link e Nighantu:
https://niimh.nic.in/ebooks/e-Nighantu/bhavaprakashanighantu/?mod=read
पुंसि क्लीबे च कर्पूरः सिताभ्रो हिमवालुकः |

घनसारश्चन्द्रसंज्ञो हिमनामापि स स्मृतः ||१||

कर्पूरः शीतलो वृष्यश्चक्षुष्यो लेखनो लघुः |

सुरभिर्मधुरस्तिक्तः कफपित्तविषापहः ||२||

दाहतृष्णाऽस्यवैरस्यमेदोदौर्गन्ध्यनाशनः |

कर्पूरो द्विविधः प्रोक्तः पक्वापक्वप्रभेदतः |

पक्वात्कर्पूरतः प्राहुरपक्वं गुणवत्तरम् ||३||
HABITAT: A tree native to China and Japan and often grown as a hedge plant.
BOTANICAL DESCRIPTION: Leaves- broad, bright green colored approximately 2 to 4 inches long with a wavy margin. Bark is yellow brown colored with rough surface.
Fruits are dark green colored, round, present in clusters. Seeds are very small
Flowers are bisexual, yellowish white in color.
AYURVEDIC CHARACTERSTICS
| | | | | | |
| --- | --- | --- | --- | --- | --- |
| RASA | GUNA | VEERYA | VIPAKA | PRABHAVA | DOSHGHNTA |
| Tikta, katu, madhur | Laghu, tiksna | Sheeta | Katu | | Tridoshahara |
AYURVEDIC ENERGETICS
TASTE

PROPERTY

POTENCY

POST DIGESTIVE EFFECT

EFFECT ACTION

DOSHA EFFECT

Bitter,Pungent

Sweet

Light

Sharp

Cold

Pungent

Balances all the three doshas
MAJOR CHEMICAL CONSTITUENTS: Terpeniol, volatile oils, D camphor.
THERAPEUTIC USES:
Healing of wounds- Dusting of the fine powder of camphor over wounds.
Getting rid of lice- 10gm of camphor is dissolved in 100 ml of warm coconut oil.
Chest congestion- 5gm of camphor is taken and added in 100ml of warm sesame oil and dissolved,it relieves cough and congestion of chest.
INDICATIONS
Sandhishula Pain in joints, Agnimandha Indigestion, Kasa Cough, Svasa Asthma.
USEFUL PART: Niryaas
DOSAGE: Concentrate- 125-375mg
AYURVEDIC FORMULATION:
1. Karpurarasa
2. Karpuraniryas
3. Amritbindu