BOTANICAL NAME: Cassia Occidentalis
FAMILY: Caesalpiniaceae
CLASSICAL CLASSIFICATION
Shushruta- Sarasadigana
Bhavaprakasha- Shakavarga
ENGLISH NAME: Negro Coffee
COMMON NAME:
Hindi: Kasoundi
Kannada: Elemuri soppu
Bengali: Kesenda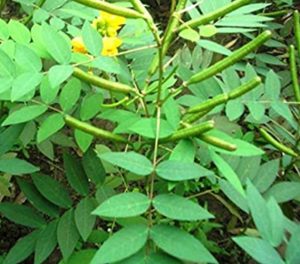 REFERENCE: BHAVAPRAKASH SAMHITA with link e Nighantu:
https://niimh.nic.in/ebooks/e-Nighantu/bhavaprakashanighantu/?mod=read
कासमर्दोऽरिमर्दश्च कासारिः कर्कशस्तथा |

कासमर्ददलं रुच्यं वृष्यं कासविषास्रनुत् |

मधुरं कफवातघ्नं पाचनं कण्ठशोधनम् |

विशेषतः कासहरं पित्तघ्नं ग्राहकं लघु ||३६||
HABITAT: Plant occurs throughout tropical regions. It is growing in wild and very common along roads railway tracts, waste places and other areas in country.
BOTANICAL DESCRIPTION: Subglabrous shrub. Leaves 8-10 in long, foetid, rachis with a single gland at the base. Flowers in axillary, distinctly peduncled. Petal subequal, yellow. Flowers orange yellow. Pods 3 by 4 very slightly curved. Seeds 30-40 dark brown colour.
AYURVEDIC CHARACTERSTICS:
| | | | | | |
| --- | --- | --- | --- | --- | --- |
| RASA | GUNA | VEERYA | VIPAKA | PRABHAVA | DOSHGHNTA |
| Tikta, madhura | Ruksa, laghu, tiksna | Usna | Katu | Dipana | Kaphavatasmaka, pittasarska |
AYURVEDIC ENERGETICS:
TASTE

PROPERTY

POTENCY

POST DIGESTIVE EFFECT

EFFECT

ACTION

DOSHA ACTION

Bitter

Sweet

Dry

Light

Sharp

Hot

Pungent

Appetizer

Pacifying kapha and vatta
MAJOR CHEMICAL CONSTITUENTS: cathartine, fatty acids
THERAPEUTIC USES:
Asthma- Its flower decoction is used in a dose of 20 ml once or twice a day
Urinary retention- Root decoction is used to treat urinary retention, dysuria.
Scorpion bite- Root is administered orally for the treatment of scorpion bite.
Mouth ulcers- A rasam preparation called tambulli is prepared in coastal Karnataka, having this with rice is advised to relieve mouth ulcers.
INDICATIONS
Eczema Skin diseases, Hikka Hiccough, Rochana Relieves anorexia and Svasa Asthma
USEFUL PART: seeds, leaves, roots
DOSAGE: leaves juice -10-20 ml, seeds powers- 3-6gm, Root decoction – 40-80ml
AYURVEDIC FORMULATION:
1. Kasamarda root paste
2. Kasamarda powder
3. Kasamarda decoction