BOTANICAL NAME: Saccharum spontaneum
FAMILY: Poaceae
CLASSICAL CLASSIFICATION–
Charaka- Mutravirechniya
Shushruta- Trina panchmoola
Bhavaprakasha- Guduchyadi varga
ENGLISH NAME: Thatch grass
COMMON NAME:
Hindi: Kasa
Bengali: Keshe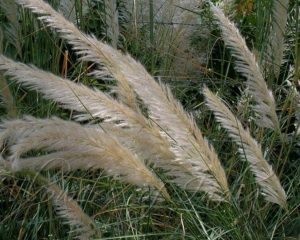 REFERENCE: BHAVAPRAKASH SAMHITA with link e Nighantu:
https://niimh.nic.in/ebooks/e-Nighantu/bhavaprakashanighantu/?mod=read
काशः काशेक्षुरुद्दिष्टः स स्यादिक्षुरसस्तथा |

इक्ष्वालिकेक्षुगन्धा च तथा पोटगलः स्मृतः ||१३९||

काशः स्यान्मधुरस्तिक्तः स्वादुपाको हिमः सरः |

मूत्रकृच्छ्राश्मदाहास्रक्षयपित्तजरोगजित् ||१४०||
HABITAT: Plant occurs in pantropics. It is commonly growing wild along river beds, ponds, ditches or canal in open country and fallow land in different regions of India.
BOTANICAL DESCRIPTION:
Tough grass with extensive, creeping rhizomes and erect. Leaves long, linear, filiform. Panicle up to 45 cm long. Sessile and pedicelled spikelets.
AYURVEDIC CHARACTERSTICS:
| | | | | | |
| --- | --- | --- | --- | --- | --- |
| RASA | GUNA | VEERYA | VIPAKA | PRABHAVA | DOSHGHNTA |
| Madhura, kasaya | Laghu, snigdha | Sita | Madhura | | Vatapittasamak |
AYURVEDIC ENERGETICS:
TASTE

PROPERTY

POTENCY

POST DIGESTIVE EFFECT

EFFECT ACTION

DOSHA EFFECT

Sweet

Astringent

Light

Unctuous

Cold

Sweet

Pacifying vata pitta
MAJOR CHEMICAL CONSTITUENTS: Alkaloids, Carbohydrates, glycosides, saponins, tannins.
THERAPEUTIC USES:
Diabetes –Its ghrit preparation used to treat diseases related to urinary system.
Bleeding piles- Root decoction is given in a dose of 40-50 ml.
Renal calculi- Decoction of the root is given in a dose of 50 ml mixed with Gokshura powder.
Promoting lactation- The root of kasa is boiled with cow milk and given in dose of 50-60ml.
INDICATIONS
Shosha Emaciation, Kasaya Weight loss, Mutrakrucha Dysuria, Daha Burning sensation, Tarpana Norishing.
USEFUL PART: Root
DOSAGE: Decoction – 50 to 100 ml
AYURVEDIC FORMULATION:
1. Trnapancamula kvatha
2. Kusavaleha
3. Kusadya ghrta