BOTANICAL NAME: Strychnos potatorum Linn.
FAMILY: Loganiaceae
CLASSICAL CLASSIFICATION
Charaka- Vishaghana
Shushruta- Parushakadi gana
Bhavapraksha- Amradi phala varga
ENGLISH NAME: Clearing nut
COMMON NAME:
Hindi: Nirmali
Punjabi: Nirmali
Bengali: Kevu
Kannada: Chenglavaa-Koshtu, Changalvakosht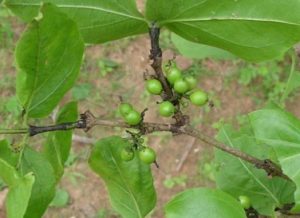 REFERENCE: BHAVAPRAKASH SAMHITA with link e Nighantu:
https://niimh.nic.in/ebooks/e-Nighantu/bhavaprakashanighantu/?mod=read
पयःप्रसादिः कतकः कतकं तत्फलं च तत् |

कतकस्य फलं नेत्र्यं जलनिर्मलताकरम् |

वातश्लेष्महरं शीतं मधुरं तुवरं गुरु ||९०||
HABITAT: A tall tree occurring plentifully in deciduous forests in most of the parts of the country upto 400 m.
BOTANICAL DESCRIPTION:
Seed up to 8 mm dia., circular, bluntly lenticular, shiny with short, appressed
silky hairs; cream-white in color with a slightly prominent ridge round the border, no
bitterness.
AYURVEDIC CHARACTERSTICS:
RASA

GUNA

VEERYA

VIPAKA

PRABHAVA

DOSHGHNTA

Madhura, Tikta,

Kasaya

Laghu

Vishada

Sheeta

Madhura

Chakshusya

Vaat shamak
AYURVEDIC ENERGETICS:
TASTE

PROPERTY

POTENCY

POST DIGESTIVE EFFECT

EFFECT ACTION

DOSHA ACTION

Sweet

Bitter

Astringent

Light

Cold

Sweet

Improve vision

Pecifying vata
MAJOR CHEMICAL CONSTITUENTS: Glycoside, Alkaloids, Oleanolic acid and Novacine.
THERAPEUTIC USES:
Eye diseases- The seeds of kataka are rubbed in a clean stone and the paste is applied as Anjana to treat various eye diseases.
Wound healing- The powder of the seed is mixed with appropriate quantity of honey and applied over wound.
Eczema- The paste of the root kataka is applied over the skin area affected with eczema.
Diarrhea- The powder of kataka seeds is given in of 3-4 gm to treat indigestion and diarrhea.
INDICATIONS
Aruci Anorexia, Krimi Worm infestation, Prameha Diabetes, Mutrakrcchra Difficulty in micturition, Netraroga Eye disorders.
USEFUL PART: Seed
DOSAGE: 3-6gm
AYURVEDIC FORMULATION:
1. Dasmularisht
2. Niruryadi Gutiika