BOTANICAL NAME: Myrica esculenta Buch
FAMILY: Myricaceae
CLASSICAL CLASSIFICATION
Charaka- Vedanasthapana, Shukra sodhana, Sandhaniya
Shushruta- Lodharadi,Surasadi gana
Bhavapraksha- Haritakyadi varga
ENGLISH NAME: Bay berry
COMMON NAME:
Hindi: Kayaphal
Bengali: Kayachal
Gujarati: Kayaphal
Kannada: Kirishivani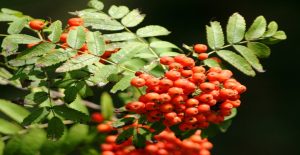 REFERENCE: BHAVAPRAKASH SAMHITA with link e Nighantu:
https://niimh.nic.in/ebooks/e-Nighantu/bhavaprakashanighantu/?mod=read
कट्फलः सोमवल्कश्च कैटर्यः कुम्भिकाऽपि च |

श्रीपर्णिका कुमुदिका भद्रा भद्रवतीति च ||१५९||

कट्फलस्तुवरस्तिक्त कटुर्वातकफज्वरान् |

हन्ति श्वासप्रमेहार्शः कासकण्ठामयारुचीः ||१६०||
HABITAT: Dioecious, evergreen, small or moderate sized tree
BOTANICAL DESCRIPTION:
Fruit – A drupe, ellipsoid or ovoid, 0.7-1.0 cm long, 0.5-0.7 cm wide, dark brown,
surface tubercle, very hard; taste, sourish sweet. Seeds are Ovoid, 0.6 cm long, 0.3 cm wide, surface very smooth, light brown; taste, oily.
AYURVEDIC CHARACTERSTICS:
RASA

GUNA

VEERYA

VIPAKA

PRABHAVA

DOSHGHNTA

Katu,

Tikta,

Kashya

Laghu,

Tikshna

Ushna

Katu

Shukra shodhan

Kapha-vatahar
AYURVEDIC ENERGETIC:
TASTE
PROPERTY
POTENCY
POST DIGESTIVE EFFECT
EFFECT ACTION
DOSHA ACTION

Pungent

Bitter

Astringent

Light

Sharp

Hot

Pungent

Cleansing of semen

Pacifying vatta and kapha
MAJOR CHEMICAL CONSTITUENTS: Waxy Material, Myricnol, Aproanthocyanidin.
THERAPEUTIC USES:
Shiroroga- katphala nasya is indicated in shiroroga.
Oral ulcers- Decoction of the bark of katphala is used for gargling
Skin diseases- Paste from bark of katphala is applied locally.
Intestinal worms and Diabetes- Decoction of bark of the tree is given in dose of 30-40 ml.
Indigestion- The powder of bark of katphala in a dose of 3-5 gm is mixed with a glass of buttermilk and consumed.
INDICATIONS
Gulma Tumors of abdomen, Meha Diabetes, Jvara Fever, Mukha Roga Oral disorders, Kasa Cough, Swasa Asthma.
USEFUL PART: Fruit, bark
DOSAGE: 3-5gm
AYURVEDIC FORMULATION:
1. Irimedadi taila
2. Baila taila
3. Brhatphala Ghrta