BOTANICAL NAME: Lagenaria siceraria
FAMILY: Cucurbitaceae
CLASSICAL CLASSIFICATION:
Charak Samhita– Vamana & Phalini
Sushruta Samhita–Urdhwabhaga hara
Bhavaprakasha nighantu– Shaka Varga
Raja nighantu– Guduchyadi Varga
English Name-Bottle Gourd
COMMON NAME:
Hindi: Tita lauki, Katu lauki
Tamil: Surakkai
Bengali: Titlaou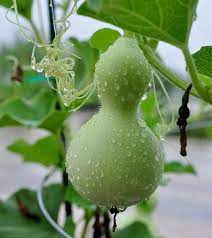 REFERENCE: BHAVAPRAKASH SAMHITA with link e Nighantu:
https://niimh.nic.in/ebooks/e-Nighantu/bhavaprakashanighantu/?mod=read
भावप्रकाश-पूर्वखण्ड-मिश्रप्रकरण – १०. शाकवर्ग

अलाबू

अलाबूः कथिता तुम्बी द्विधा दीर्घा च वर्तुला |

मिष्टतुम्बीफलं हृद्यं पित्तश्लेष्मापहं गुरु |

वृष्यं रुचिकरं प्रोक्तं धातुपुष्टिविवर्धनम् ||४८||
HABITAT: Climber.
BOTANICAL DESCRIPTION:
The L. siceraria (Molina) is a member of the Cucurbitaceae family and is also called Bottle gourd. It is a climbing perennial plant that is extensively grown as a vegetable crop in tropical nations such as Thailand, Egypt, India, Japan, and the rest of the world. The fruits of Bottle gourd have a variety of shapes: they can be huge and rounded, small and bottle-shaped, or slim and serpentine, and they can grow to be over a meter long. Rounder varieties are typically called calabash gourds.
AYURVEDIC CHARACTERISTICS:
| | | | | | |
| --- | --- | --- | --- | --- | --- |
| RASA | GUNA | VEERYA | VIPAKA | PRABHAVA | DOSHGHNTA |
| Tikta | Laghu, Ruksha | Sita | Katu | – | Vatapitta Shamaka |
AYURVEDIC ENERGETICS:
TASTE
PROPERTY
POTENCY
POST DIGESTIVE EFFECT
EFFECT ACTION
DOSHA ACTION
Bitter
Light

Dry

Cold
Pungent
–
Pacifying Vata, Pitta
MAJOR CHEMICAL CONSTITUENTS: Plant contains Ascorbic acid, triterpenes, minerals, choline, amino acids, vitamin-B complex, triterpenoid cucurbitacins B, D, H, G, 22-deoxy cucurbitacin, β-glycosidedase-elasterase, flavonoids, sterols, and carbohydrates are all found in the edible part of the fruit
THERAPEUTIC USES:
10-15 Raw Bottle Gourd pieces are to be consumed in dysuria & burning sensation.
02-03 ml of fresh bottle gourd juice is instilled to get relieve from burning sensation and irritation during Conjunctivitis. Purulent discharged will be controlled by this.
In Acid-Peptic Disorders flowers of bottle gourd is churned with Butter milk and consumed.
INDICATIONS:
Burning Sensation Daha, Blood Disorders Asra doshas, Anorexia Aruchi, Shirashoola Headache.
USEFUL PART: Roots, leaves, Fruit.
DOSAGE: Juice : 10-20 ml.
AYURVEDIC FORMULATION:
Mahavishagarbha Taila.