BOTANICAL NAME:Costus speciosus
FAMILY: Zingiberaceae
CLASSICAL CLASSIFICATION
Charaka- Krimighna, tikta skandha
Bhavaprakasha- Haritakyadi varga
ENGLISH NAME: Cane reed, Wild ginger, crepe ginger
COMMON NAME:
Hindi: Kembu
Kannada: Chengaluva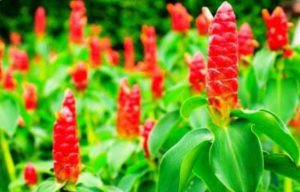 REFERENCE: BHAVAPRAKASH SAMHITA with link e Nighantu:
https://niimh.nic.in/ebooks/e-Nighantu/bhavaprakashanighantu/?mod=read
केमुकं कटुकं पाके तिक्तं ग्राहि हिमं लघु |
दीपनं पाचनं हृद्यं कफपित्तज्वरापहम् |
कुष्ठकासप्रमेहास्रनाशनं वातलं कटु ||९०||
HABITAT: Herb commonly found in sub-Himalayan
BOTANICAL DESCRIPTION:
Tuberous rhizome, horizontally branched, 4 to 6 cm long and 2 to 3 cm thick;
outer surface grey to dark brown, longitudinal wrinkles and small circular leaf scars on
upper surface; numerous nipple-shaped buds present throughout its length; numerous
slender roots occur along with rhizome, possesses rootlets which makes it slightly
rough; fracture, short fibrous and hard, odorless and tasteless.
AYURVEDIC CHARACTERSTICS:
RASA

GUNA

VEERYA

VIPAKA

PRABHAVA

DOSHGHNTA

Madhura

Laghu,

Ruksha

Sita

Katu

Garbhashya- sankochak

Kapha -pittashamak
AYURVEDIC ENERGETICS:
TASTE

PROPERTY

POTENCY

POST DIGESTIVE EFFECT

EFFECT ACTION

DOSHA EFFECT

Sweet

Light

Dry

Cold

Pungent

Promote

Uterine contraction

Pacifying kapha pitta
MAJOR CHEMICAL CONSTITUENTS: Steroids, Saponins
THERAPEUTIC USES:
Asthma and cough- The powder of the Rhizome of kebuka is given in a dose of 3-5gm with honey.
Indigestion and anorexia- The powder of the rhizome is given in a dose of 3-5 gm with hot water.
Pain associated during labour- The fresh juice of the rhizome of kebuka is given to treat difficulty in labour.
INDICATIONS
Kushta Leprosy, Kasa Cough, Jwara Pyrexia, Premeha Diabetes
USEFUL PART: Rhizome
DOSAGE:3-6 gm
AYURVEDIC FORMULATION:
Krimighna kvatha and curna