BOTANICAL NAME: Acacia catechu
FAMILY: Mimosaceae
CLASSICAL CLASSIFICATION:
Charaka: Kushthaghna, udardaprasamana, Mutrasangrahaniya
Sushruta: Salasaradi gana
Bhavaprakash: Vatadi Varga
ENGLISH NAME: Black Catechu, Cutch tree.
COMMON NAME:
Hindi: Khair
Kannada: Kaggali, Kaggalinara, Kachinamara
Punjabi: Khair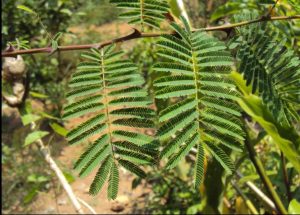 REFERENCE: BHAVAPRAKASH SAMHITA with link e Nighantu:
https://niimh.nic.in/ebooks/e-Nighantu/bhavaprakashanighantu/?mod=read
खदिरो रक्तसारश्च गायत्री दन्तधावनः |

कण्टकी बालपत्रश्च बहुशल्यश्च यज्ञियः |

खदिरः शीतलो दन्त्यः कण्डूकासारुचिप्रणुत् |

तिक्तः कषायो मेदोघ्नः कृमिमेहज्वरव्रणान् |

श्वित्रशोथामपित्तास्रपाण्डुकुष्ठकफान् हरेत् ||२७||

श्वेत खदिर- खदिरः श्वेतसारोऽन्यः कदरः सोमवल्कलः |

कदरो विशदो वर्ण्यो मुखरोगकफास्रजित् ||२८|| (Vatadi Varga)
HABITAT: Drier regions of India, particularly Punjab, Madhya Pradesh, Uttar Pradesh, Bihar, Andhra Pradesh, Orissa and Rajasthan.
BOTANICAL DESCRIPTION:
It is a medium sized thorny tree upto 50 m tall having dark coloured rough bark. Its leaves are bipinnately compound with stipular spines which are short & hooked shaped. Leaflets are in 30-50 pairs, sessile. Flowers are pale yellow coloured with axillary spikes inflorescence. Fruit is in pod shaped, wide flat, thin, brown shining with a triangular beak at the apex.
AYURVEDIC CHARACTERISTICS:
| | | | | | |
| --- | --- | --- | --- | --- | --- |
| RASA | GUNA | VEERYA | VIPAKA | PRABHAVA | DOSHGHNTA |
| Tikta, Kasaya | Laghu, Ruksa | Sita | Katu | Krmighna | Kaphapitthara |
AYURVEDIC ENERGETICS:
TASTE

PROPERTY

POTENCY

POST DIGESTIVE EFFECT

EFFECT ACTION

DOSHA ACTION

Bitter

Astringent

Lightness

Dryness

Cold

Pungent

Worm infestation

Kaphpitta

Pacifying
MAJOR CHEMICAL CONSTITUENTS: Catechin, Catechu-tannic acid and tannin
THERAPEUTIC USES:
Stomatitis: Decoction of Khadira is used for gargling.
Skin diseases: Decoction of Khadir is used internally as well as externally (for bathing).
Wounds: Dried powder of its bark is used for dusting over ulcers and wounds.
Blisters: Paste of Khadir and Rakta chandana is very effective in blisters.
INDICATIONS:
Twakavikara Skin disorders, Kushtha Leprosy, Shwasa Bronchial asthma, Kasa Cough, Mukharoga Mouth & throat disorders, Atisara Diarrhoea, Prameha Diabetes, Raktavikara Blood purifier, Vrana Wound, Mukhapaka Stomatitis, Dantroga Teeth disorders, Shotha Inflammation
USEFUL PART: Heart- wood, Bark, katha
DOSAGE: 20-30 g of the drug for the decoction
AYURVEDIC FORMULATION:
Khadirarista
Irimedadi Taila
Khadiradi Gutika