BOTANICAL NAME: Phoenix dactylifera Linn.
FAMILY: Araceae
CLASSICAL CLASSIFICATION
Charaka- Shramahara,Brihmaniya,Virechanopaga.
Bhavapraksha- Amaradi phala varga
ENGLISH NAME: dried dates
COMMON NAME:
Hindi: Khajoor
Kannada: Karinchula, Khajura
Bengali: Sohara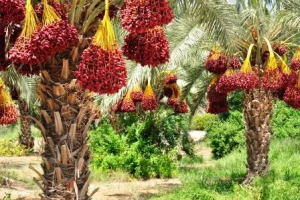 REFERENCE: BHAVAPRAKASH SAMHITA with link e Nighantu:
https://niimh.nic.in/ebooks/e-Nighantu/bhavaprakashanighantu/?mod=read
भूमिखर्जूरिका स्वाद्वी दुरारोहा मृदुच्छदा |

तथा स्कन्धफला काककर्कटी स्वादुमस्तका ||९७||

पिण्डखर्जूरिका त्वन्या सा देशे पश्चिमे भवेत् |

खर्जूरी गोस्तनाकारा परद्वीपादिहागता |

जायते पश्चिमे देशे सा च्छोहारेति कीर्त्यते ||९८||

खर्जूरीत्रितयं शीतं मधुरं रसपाकयोः |

स्निग्धं रुचिकरं हृद्यं क्षतक्षयहरं गुरु ||९९||

तर्पणं रक्तपित्तघ्नं पुष्टिविष्टम्भशुक्रदम् |

कोष्ठमारुतहृद् बल्यं वान्तिवातकफापहम् ||१००||

ज्वरातिसारक्षुत्तृष्णाकासश्वासनिवारकम् |

मदमूर्च्छामरुत्पित्तमद्योद्भूतगदान्तकृत् |

महतीभ्यां गुणैरल्पा स्वल्पखर्जूरिका स्मृता ||१०१||

खर्जूरीतरुतोयं तु मदपित्तकरं भवेत् |

वातश्लेष्महरं रुच्यं दीपनं बलशुक्रकृत् |

सुलेमानी तु मृदुला दलहीनफला च सा |

सुलेमानी श्रमभ्रान्तिदाहमूर्च्छाऽस्रपित्तहृत् ||१०२||
HABITAT: A tall tree upto 36 m high, cultivated or occasionally self-sown in arid
parts.
BOTANICAL DESCRIPTION: Fruit an oblong berry, 2.5 to 7.5 cm long, hard, reddish-brown, and sweet.
AYURVEDIC CHARACTERSTICS:
RASA

GUNA

VEERYA

VIPAKA

PRABHAVA

DOSHGHNTA

Madhura,

Khashya

Guru,

Snigdha

Sita

Madhura

Brihana

Vata-pita shamak
AYURVEDIC ENERGETICS:
TASTE

PROPERTY

POTENCY

POST DIGESTIVE EFFECT

EFFECT ACTION

DOSH ACTION

Sweet

Astringent

Heavy

Unctuous

Cold

Sweet

Norishing

Pacifying vata and pitta
MAJOR CHEMICAL CONSTITUENTS:
Sugars, Tannins and Vitamins.
THERAPEUTIC USES:
Diuretic-The fresh juice extracted from the leaf stalk of khajura is good diuretic and improves physical strength.
Gingivitis- The decoction prepared from the root is used for gargling to treat gingivitis.
Dysuria, Diarrhea- Decoction prepared of leaves is used in dose of 25-30 ml .
Dehydration and fever- Cold infusion prepared from the fruit of date palm is given in a dose of 40-50ml.
INDICATIONS
Daha Burning sensation, Trishna Excessive thirst, Hikka Hiccups, Jwara Pyrexia,Kasa Cough, Raktapitta Bleeding disorders, Kshut Excess hunger, Shwasa Asthma.
USEFUL PART: Fruit
DOSAGE: 10-15 g
AYURVEDIC FORMULATION:
1. Draksadi churna
2. Eladi gutika
3. Siva gutika