BOTANICAL NAME: Swertia chirata
FAMILY: Gentianaceae
CLASSICALCLASSIFICATION:
Charaka: Tiktaskanda, Stanyashodhana, Trishnanighrana
Sushruta: Aragwadhadi Gana
Bhavaprakash: Haritakyadi varga
ENGLISH NAME: Chireta
COMMON NAME:
Punjabi- Chiretta, Chiraita
Kannada- Nalebevu, Chirata kaddi, Chirayat
Hindi- Chirayata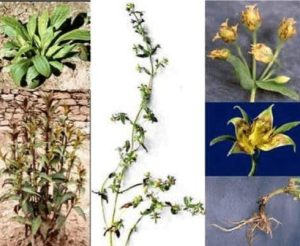 REFERENCE: BHAVAPRAKASH SAMHITA with link e Nighantu:
https://niimh.nic.in/ebooks/e-Nighantu/bhavaprakashanighantu/?mod=read
किराततिक्तः कैरातः कटुतिक्तः किरातकः |

काण्डतिक्तोऽनार्यतिक्तो भूनिम्बो रामसेनकः |

किरातकोऽन्यो नैपालः सोऽर्धतिक्तो ज्वरान्तकः ||१३६||

किरातः सारको रूक्षः शीतलस्तिक्तको लघुः |

सन्निपातज्वरश्वासकफपित्तास्रदाहनुत् |

कासशोथतृषाकुष्ठज्वरव्रणकृमिप्रणुत् ||१३७|| (Haritkyadi varg)
HABITAT: Temperate Himalayas from Kashmir to Bhutan and in Khasi Hills in Meghalaya.
BOTANICAL DESCRIPTION:
It is a perennial herb with stem upto 1 m long and 6 mm in diameter, glabrous, yellowish-brown to purplish, slightly quadrangular above and cylindrical below, large, continuous, easily separable yellow pith. The leaves are opposite, simple, broad at base, ovate or lanceolate in shape, entire, acuminate, glabrous, usually with 5-7 prominent lateral veins, branching from the axils of the leaves which ramify further into paniculate inflorescence. The flowers are greenish yellow with purple tinge, with two glandular depressions near the base of each of corolla, lobes, ovary, superior, bicarpellary, unilocular, ovoid and pointed. The fruit is a capsule with numerous, minute reticulated seed, 0.25-0.55 mm long.
AYURVEDIC CHARACTERISTICS:
| | | | | | |
| --- | --- | --- | --- | --- | --- |
| RASA | GUNA | VEERYA | VIPAKA | PRABHAVA | DOSHGHNTA |
| Tikta | Laghu, Ruksha | Sita | Katu | – | Kaphapitthara |
AYURVEDIC ENERGETICS:
TASTE

PROPERTY

POTENCY

POST DIGESTIVE EFFECT

EFFECT ACTION

DOSHA ACTION

Bitter

Lightness

Dryness

Cold

Pungent

–

Kaphpitta

Pacifying
MAJOR CHEMICAL CONSTITUENTS: Xanthones, Xanthone, glycoside and mangiferine.
THERAPEUTIC USES:
Fever: Hot infusion or powder of Chirayita is used internally in chronic fever.
Anorexia & Nausea: Its powder is taken and licked by mixing with honey.
Skin disorders: Decoction of Kiratatikta, Neem and Triphala is used for internal & external purpose.
Worm infestation: Fine paste of the fresh herb is very beneficial in intestinal worms.
Itching: Medicated oil with Chirayita is locally applied over the skin lesions.
INDICATIONS
Jwara Fever, Vishamjwara Malaria, Daha Burning sensation, Adhmana Flatulence, Amlapitta Gastritis, Yakritvikara Liver disorders, Kamala Jaundice, Pandu Anaemia, Shotha Inflammation, Shwasa Bronchial asthma, Kasa Cough, Krimiroga Worm infestation, Vrana Wound.
USEFUL PART: whole plant
DOSAGE: 1-3g of the drug in powder form, 20-30g of the drug for decoction.
AYURVEDIC FORMULATION:
Sudarsana churna
Chinnodbhavadi kvatha Churna