BOTANICAL NAME: Astercantha longifolia
FAMILY: Acanthaceae
CLASSICAL CLASSIFICATION:
Charaka Samhita- Shukra shodhana
Bhavaprakasha nighantu– Guduchyadi Varga
Raja nighantu– Guduchyadi Varga
Kaiydeva Nighantu-Aushadha Varga
Raj Nighantu-Shatahvadi Varga
English name: Hygrophila
COMMON NAME:
Hindi: Kokilaksha, Talimakhana
Tamil: Nirmuli
Bengali: Kulimakada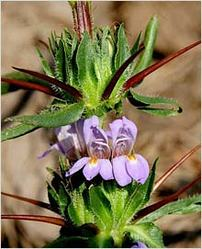 REFERENCE: BHAVAPRAKASH SAMHITA with link e Nighantu:
https://niimh.nic.in/ebooks/e-Nighantu/bhavaprakashanighantu/?mod=read
भावप्रकाश-पूर्वखण्ड-मिश्रप्रकरण – ४. गुडूच्यादिवर्ग

कोकिलाक्ष

कोकिलाक्षस्तु काकेक्षुरिक्षुरः क्षुरकः क्षुरः |

भिक्षुः काण्डेक्षुरप्युक्त इक्षुगन्धेक्षुबालिका ||१९२||

क्षुरकः शीतलो वृष्यः स्वाद्वम्लः पित्तलस्तथा |

तिक्तो वातामशोथाश्मतृष्णादृष्ट्यनिलास्रजित् ||१९३||
HABITAT: Herb
BOTANICAL DESCRIPTION
An annual herbal plant growing up to 60 cm in height. The stem of the plant is tetragonal, hairy and stiff at the nodes. The bark is dark brown, although the leaves are elliptic-lanceolate and herpid. The flowers are purple and to a lesser extent violet blue. The fruit resembles a four-sided shape, linear, glabrous and about 1 cm long with seeds that are hairy and brown in color.
AYURVEDIC CHARACTERISTICS:
| | | | | | |
| --- | --- | --- | --- | --- | --- |
| RASA | GUNA | VEERYA | VIPAKA | PRABHAVA | DOSHGHNTA |
| Madhura | Guru Snigdha | Sita | Madhura | – | Vatapitta Shamaka |
AYURVEDIC ENERGETICS:
TASTE
PROPERTY
POTENCY
POST DIGESTIVE EFFECT
EFFECT ACTION
DOSHA ACTION
Sweet
Heavy

Unuctous

Cold
Sweet
–
Pacifying Vata, Pitta
MAJOR CHEMICAL CONSTITUENTS: Plant contains Lupeol, Stigmasterol, Sterols, Hydrocarbons.
THERAPEUTIC USES:
The Decoction in dose of root of Asteracantha longifolia is given in dose of 10 ml to treat jaundice and swelling of body.
Seed Powder in dose of 03-06 gm. with milk to treat impotence, less sperm count & general debility.
Its kshar preparation with gokshura decoction gives results in renal calculi.
INDICATIONS:
Urolithiasis Ashmari, Blood Disorders Asra doshas, Inflammation Shoph, Neuralgia Vata Roga.
USEFUL PART: Roots, Seeds
DOSAGE: Decoction : 05-10 ml
Seed Powder: 04-06 gm.
AYURVEDIC FORMULATION:
Kokilaksha Kashaya.
Chopchinyadi Churna
Kokilaksha Churna