BOTANICAL NAME: Luffa acutangula
FAMILY: Cucurbitaceae
CLASSICAL CLASSIFICATION:
Charaka: Vamana gana, Phalini dravya
Sushruta: Urdhwabhagahara, Ubhayatobhagahara
Bhavaprakash: Shaka varga
ENGLISH NAME: Ridge gourd, Angled luffa, ribbed gourd
COMMON NAME:
Hindi: Taroi, Nenua, Kharro
Kannada: Heerakai, Heerekayi
Punjabi: Kalitori
Bengali: Jhinga, Ghinga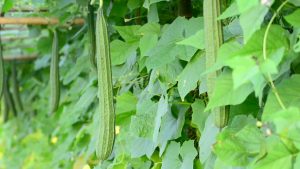 REFERENCE: BHAVAPRAKASH SAMHITA with link e Nighantu:
https://niimh.nic.in/ebooks/e-Nighantu/bhavaprakashanighantu/?mod=read
धामार्गवः पीतपुष्पो जालिनी कृतवेधना।

राजकोशातकी चेति तथोक्ता राजिमत्फला ॥६७॥

राजकोशातकी शीता मधुरा कफवातकृत् ।

पितघ्नी दीपनी श्वासज्वरकासकृमिप्रणुत् ॥६८॥
HABITAT: Native to all over India
BOTANICAL DESCRIPTION:
It is an annual climber with herbaceous five angled stem. Leaves are simple, 2 to 3 cm in length, 1 to 1.5 cm in width, greenish-brown to dull green; entire margin, lanceolate in shape; apex mucronate, base tapering with short and glabrous petiole. Flowers are pale yellow and unisexual. Matured fruit is club shaped with 10 prominent ribs running along the length. It contains numerous flattened seeds, black in color having specific odour, aromatic when crushed; taste, sweet, mucilaginous and slightly astringent.
AYURVEDIC CHARACTERISTICS:
| | | | | | |
| --- | --- | --- | --- | --- | --- |
| RASA | GUNA | VEERYA | VIPAKA | PRABHAVA | DOSHGHNTA |
| Tikta | Laghu, Ruksha, Tikshna | Ushna | Katu | Vamana &Virechana | Kaphapittahara |
AYURVEDIC ENERGETICS:
TASTE

PROPERTY

POTENCY

POST DIGESTIVE EFFECT

EFFECT ACTION

DOSHA ACTION

Bitter

Lightness

Dryness

Sharpness

Hot

Pungent

Emesis & Purgation

Kaphpitta

Pacifying
MAJOR CHEMICAL CONSTITUENTS: Cucurbitacin B, E, Oleanolic acid, Triterpene saponins
THERAPEUTIC USES:
Panchkarma therapy: The juice of the fruit is given for the purpose of emesis and purgation.
Skin diseases: The decoction of Koshataki is used in various skin disorders.
Inflammation: Paste prepared from its leaves is applied externally to treat localized swelling.
Headache: Fresh juice of the leaf or its powder is used in the form of nasya.
INDICATIONS:
Kushtha Skin disorders, Garavisha Chronic poisoning, Pleehavridhi Spleenomegaly, Arsha Haemorrhoids, Udara Ascites, Pandu Anaemia, Kamala Jaundice, Shotha Inflammation, Aruchi Anorexia
USEFUL PART: leaves, fruit
DOSAGE: 10-20ml (Svarasa), 3-6 gm (churna)
AYURVEDIC FORMULATION:
Abhaya Lavana