BOTANICAL NAME: Sesamum indicum
FAMILY: Pedaliaceae
CLASSICAL CLASSIFICATION:
Bhavaprakasha nighantu– Dhanya varga
ENGLISH NAME: Sesame
COMMON NAME:
Hindi: Tila
Bengali:Tilagaacha
Kannad: Bullelu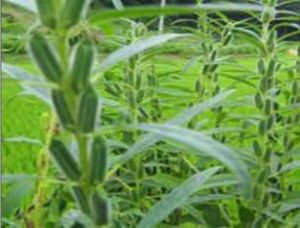 REFERENCE: BHAVAPRAKASH SAMHITA with link e Nighantu:
https://niimh.nic.in/ebooks/e-Nighantu/bhavaprakashanighantu/?mod=read
तिलः कृष्णः सितो रक्तः सवर्ण्योऽल्पतिलः स्मृतः |
तिलो रसे कटुस्तिक्तो मधुरस्तुवरो गुरुः |
विपाके कटुकः स्वादुः स्निग्धोष्णः कफपित्तनुत् ||५३||
बल्यः केश्यो हिमस्पर्शस्त्वच्यः स्तन्यो व्रणे हितः |
दन्त्योऽल्पमूत्रकृद् ग्राही वातघ्नोऽग्निमतिप्रदः ||५४||
कृष्णः श्रेष्ठतमस्तेषु शुक्रलो मध्यमः सितः |
अन्ये हीनतरः प्रोक्तास्तज्ज्ञै रक्तादयस्तिलाः ||५५||
HABITAT: An erect annual plant grown upto an height of 3 feet.
BOTANICAL DESCRIPTION: Leaves broad lanceolate, flowers tubular with four lobed mouth fruit is pubescent seeds small oval numerous.
AYURVEDIC CHARACTERISTICS:
RASA
GUNA
VEERYA
VIPAKA
PRABHAVA
DOSHGHNTA
Madhura
Guru,

Snigdha

Usna
Madhura
Dipana
Vatashamak.
AYURVEDIC ENERGETICS:
TASTE
PROPERTY
POTENCY
POST DIGESTIVE EFFECT
EFFECT ACTION
DOSHA ACTION
Sweet
Heavy,

moist

Hot
Sweet
Appetizer
Pecifying vata dosha
MAJOR CHEMICAL CONSTITUENTS: Plant contains isoaristolochine , asovanilin, aristolochin, alkaloid aristolochine.
THERAPEUTIC USES:
Diabetes mellitus-The sesame seeds are useful to treat diabetes mellitus ,cholesterol.
Ulcers wound and piles– The paste of seeds is helpful to heal wound ulcers and piles
Pain and swelling– The oil prepared from the seeds of the plant is applied over joints affected with pain and swelling.
Diseases of mouth- The paste prepared from the seeds applied over the weak teeth, diseases of mouth.
INDICATIONS:
Shotha Swelling, Sandhi vedana Joint pain, Vrana Ulcers, arsha piles
USEFUL PART: seeds, seed oil
DOSAGE: powder 3-6 gm
Oil 10- 20 ml
AYURVEDIC FORMULATION:
Narayana taila
Mahanarayan taila
Prasarini taila
Ksheerbala taila