BOTANICAL NAME: Strychnos nuxvomica
FAMILY: Loganiaceae
CLASSICAL CLASSIFICATION:
Bhavaprakash: Amradi varga
ENGLISH NAME: Nux-vomica, Poison-nut Tree
COMMON NAME:
Hindi name: Kuchala
Bengali name: Kunchila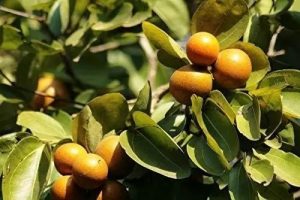 REFERENCE: BHAVAPRAKASH SAMHITA with link e Nighantu:
https://niimh.nic.in/ebooks/e-Nighantu/bhavaprakashanighantu/?mod=read
तिन्दुको यस्तु कथितो जलदो दीर्घपत्रकः |

कुपीलुः कुलकः काकतिन्दुकः काकपीलुकः |

काकेन्दुर्विषतिन्दुश्च मर्कटतिन्दुकः ||५६||

कुपीलुः शीतलस्तिक्तो वातलो मदकृल्लघुः |

पादव्यथाहरो ग्राही कफपित्तास्रनाशनः ||५७|| (Amaradi varg)
HABITAT: Tropical India up to an altitude of 360 m.
BOTANICAL DESCRIPTION:
Kupilu (Strychnos nux-vomica) is medium sized tree with short and crooked trunk. Flowers are arranged in small terminal cymes and flowers of this plant have very disagreeable odor. Fruits are lovely orange colored, about the size of large apple and surrounded by hard rind or covering.
AYURVEDIC CHARACTERISTICS:
| | | | | | |
| --- | --- | --- | --- | --- | --- |
| RASA | GUNA | VEERYA | VIPAKA | PRABHAVA | DOSHGHNTA |
| Katu, Tikta | Laghu, Ruksa, Tiksna | Ushna | Katu | – | Vatakaphahara |
AYURVEDIC ENERGETICS:
TASTE
PROPERTY
POTENCY
POST DIGESTIVE EFFECT
EFFECT ACTION
DOSHA ACTION
Pungent

Bitter

Lightness

Dryness

Sharpness

Hot
Pungent
–
Vatakaph

Pacifying
MAJOR CHEMICAL CONSTITUENTS: Alkaloids, Indole, Strychnine & Brucine, Vomicine.
THERAPEUTIC USES:
Anorexia and indigestion: Powder of Kuchla in definite dose is helpful in increasing appetite and in proper digestion of food.
Bedwetting: It is used along with Black pepper and Loh bhasma.
Dysentery: Root bark powder is mixed with lemon juice and then tablet is prepared. It is orally used.
Wound: Poultice of its leaves should be done.
INDICATIONS:
Agnimandya Indigestion, Arsha Haemorrhoids, Shayyamutra Bed wetting, Napunsakta Impotency, Gridhrasi Sciatica, Ardita Facia paralysis, Ardhanga Hemiplegia, Shwasa Bronchial asthma, Gulma Abdominal tumour, Prameha Diabetes
USEFUL PART: Bija majja
DOSAGE: 60-125 mg powder of the shodhita drug.
AYURVEDIC FORMULATION:
Krmimudgara Rasa
Visatinduka Taila
Mahavisagarbha Taila
Agnitundi Vati
Ekangavira Rasa
Visatinduka Vati
Navjivana Rasa.