BOTANICAL NAME: Aloe barbadensis
FAMILY: Liliaceae
CLASSICAL CLASSIFICATION:
Bhavaprakash: Guduchyadi varga
ENGLISH NAME: Curacao Aloe, indian Aloe
COMMON NAME:
Hindi name: Gheekuvar
Kannada name: Lolisara, lolesara
Bengali name: Ghritakumari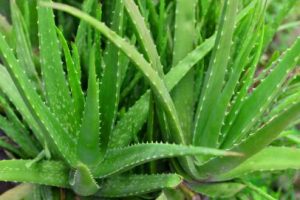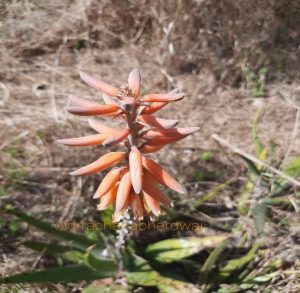 REFERENCE: BHAVAPRAKASH SAMHITA with link e Nighantu:
https://niimh.nic.in/ebooks/e-Nighantu/bhavaprakashanighantu/?mod=read
कुमारी गृहकन्या च कन्या घृतकुमारिका |

कुमारी भेदनी शीता तिक्ता नेत्र्या रसायनी |

मधुरा बृंहणी बल्या वृष्या वातविषप्रणुत् ||१९६||

गुल्मप्लीहयकृद्वृद्धिकफज्वरहरी हरेत् |

ग्रन्थ्यग्निदग्धविस्फोटपित्तरक्तत्वगामयान् ||१९७||(गुडूच्यादिवर्ग)
HABITAT: Cultivated throughout India, wild on coasts of Maharashtra, Gujarat and South India.
BOTANICAL DESCRIPTION:
It is a perennial herb with fleshy, succulent green densely crowded leaves. It grows upto the height of 30-60 cm. Edges of the leaves are sessile and serrated. Flowers are tubular and yellow in color. Fruits are triangular capsules which contains numerous seeds.
AYURVEDIC CHARACTERISTICS:
RASA
GUNA
VEERYA
VIPAKA
PRABHAVA
DOSHGHNTA
Madhur

tikta

Usna
Sheeta
Katu
–
Kaphapitthara
AYURVEDIC ENERGETICS:
TASTE

PROPERTY

POTENCY

POST DIGESTIVE EFFECT

EFFECT ACTION

DOSHA ACTION

Sweet

Bitter

Hot

Cold

Pungent

–

Kaphpitta

Pacifying
MAJOR CHEMICAL CONSTITUENTS: Anthraquinone, glycoside
THERAPEUTIC USES:
Yakrit-pleeha Roga: Juice of Kumari is given orally along with Saindhav lavana and haridra. It is also found effective in anaemia, indigestion etc.
Vibandha: Powder of kumara should be mixed with Jeera or Elaichi powder and is used in constipation.
Burns: Leaf pulp is mixed with Haldi and is used for local application.
Rashes: Oil prepared with Aloe in sesame oil is very effective against rashes.
INDICATIONS
Granthi Cysts, Gulma Abdominal tumour, Pleeharoga Spleen disorders, Kaphaj jwara Fever, Yakrit vriddhi Hepatomegaly, Twakaroga Skin disorders, vrnaropan Wound healing, Shwasa Asthma, Kasa Cough, Artavkshaya Menstrual disorders
USEFUL PART: leaves
DOSAGE: 125-500 mg of the drug in powder form.
AYURVEDIC FORMULATION:
Rajahpravartini vati
Cukkumtippalyadi Gutika