BOTANICAL NAME: Nymphaea alba Linn.
FAMILY: Nymphaeaceae
CLASSICAL CLASSIFICATION:
Charaka: Mutra virajniya
Sushruta: Utpaladi gana
Bhavaprakash: Pushpavarga
ENGLISH NAME: White water lily
COMMON NAME:
Hindi: Koyi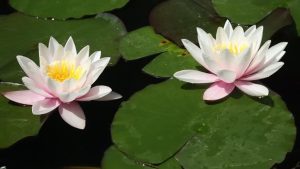 REFERENCE: BHAVAPRAKASH SAMHITA with link e Nighantu:
https://niimh.nic.in/ebooks/e-Nighantu/bhavaprakashanighantu/?mod=read
कुमुद्वती कैरविका तथा कुमुदिनीति च ॥१६॥

सा तु मूलादिसर्वाङ्गैरुक्ता समुदिता बुधैः ।

पद्मिन्या ये गुणाः प्रोक्ताः कुमुदिन्याश्च ते स्मृताः ॥१७॥
HABITAT: Native to all over India but mainly found in Kashmir
BOTANICAL DESCRIPTION:
It is an aquatic perennial herb. Rhizomes are erect or creeping and sometimes branched. Leaves are polymorphic, deltoid to suborbicular usually floating or submerged, membranous when young and prominently veined when mature with long petiole. Flowers are bisexual, usually solitary and floating, yellow white pinkish in color. Fruits are ovoid shaped berry, enclosed in a fleshy bell shaped aril.
AYURVEDIC CHARACTERISTICS:
| | | | | | |
| --- | --- | --- | --- | --- | --- |
| RASA | GUNA | VEERYA | VIPAKA | PRABHAVA | DOSHGHNTA |
| Madhura, Kashaya, Tikta | Laghu, Picchilla | Sheeta | Madhura | – | Kaphapittahara |
AYURVEDIC ENERGETICS:
TASTE

PROPERTY

POTENCY

POST DIGESTIVE EFFECT

EFFECT ACTION

DOSHA ACTION

Sweet

Bitter

Astringent

Lightness

Dryness

Sharpness

Cold

Sweet

–

Kaphpitta

Pacifying
MAJOR CHEMICAL CONSTITUENTS: Nymphalin, Quercetin, Kaempferol, Luteolin
THERAPEUTIC USES:
Diarrhea: Decoction of its root is used to treat diarrhea as well as dysentery.
Sore throats: Decoction is used for gargling.
Abscess: In combination with Flax seeds, it is used as poultice to treat boils & abscess.
INDICATIONS
Atisara Diarrhoea, Pravahika Dysentery, Daha Burning sensation, Raktavikara Bleeding disorders, Shrama Fatigue, Raktapitta Epistaxis, Shotha Inflammation, Yakritvikara Liver disorders
USEFUL PART: Rhizome, Flower, Seed, Whole plant
DOSAGE: 10-20ml (Svarasa), 3-6 gm (churna)
AYURVEDIC FORMULATION:
Triphaladi taila
Bala Ashwagandha lakshadi taila