BOTANICAL NAME: Desmostachya bipinnata
FAMILY: Gramineae
CLASSICAL CLASSIFICATION:
Charaka: Mutravirechaniya, Stanyajanana, Madhura skanda
Sushruta: Trinpanchmoola
Bhavaprakash: Guduchyadi varga
ENGLISH NAME: Tadch grass, sacrificial grass, Sacred Kusha grass
COMMON NAME:
Hindi: Kushta, Kusa, Dab, Davoli, Durva
Punjabi: Dhab, Dih, Kusa
Bengali: Derbha
Kannada: Kusha, Darbhe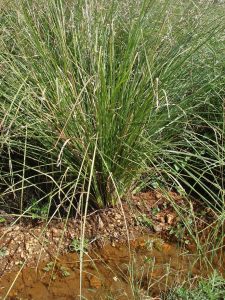 REFERENCE: BHAVAPRAKASH SAMHITA with link e Nighantu:
https://niimh.nic.in/ebooks/e-Nighantu/bhavaprakashanighantu/?mod=read
कुशो दर्भस्तथा बर्हिः सूच्यग्रो यज्ञभूषणः |

ततोऽन्यो दीर्घपत्रः स्यात्क्षुरपत्रस्तथैव च ||१४३||

दर्भद्वयं त्रिदोषघ्नं मधुरं तुवरं हिमम् |

मूत्रकृच्छ्राश्मरीतृष्णाबस्तिरुक्प्रदरास्रजित् ||१४४||
HABITAT: It occurs in India, Arabia, North Africa to tropical Africa It grows wild in plain lands, along river beds on various regions of the country.
BOTANICAL DESCRIPTION:
It is an erect, tall grass upto 90 cm long with rough root stock and thick creeping rhizomes. Leaves are 40× 0.8 cm linear convulated narrowed into filiform tip, sheath glaborous but hairy on top. Inflorescence is cylindrical upto 45 cm long spikes crowed upto 2 cm. Spikelets are purple brown, 2 seriate 1 nerved upper glume. Seeds are 1 mm long obliquely ovoid compressed. Flowering occurs during September-march
AYURVEDIC CHARACTERISTICS:
RASA
GUNA
VEERYA
VIPAKA
PRABHAVA
DOSHGHNTA
Madhura

kashaya

Laghu

Snighda

Sheeta
Madhura
–
Tridoshghna
AYURVEDIC ENERGETICS:
TASTE

PROPERTY

POTENCY

POST DIGESTIVE EFFECT

EFFECT ACTION

DOSHA ACTION

Madhura

Astringent

Lightness

Slimy

Cold

Sweet

–

Tridosha Pacifying
MAJOR CHEMICAL CONSTITUENTS: The root of the plant contains Cylindrin, Arundroine and Feninole isoarborinole
THERAPEUTIC USES:
Pradara: Powder of root of Kusha and Bala should be orally taken with rice washed water.
Renal calculi: Decoction of its roots is to be used in kidney stones as well as bladder disorders.
Wound healing: Decoction prepared using Neem, Kusha, Turmeric and Triphala is used for washing the wound.
Lactation: Root of Kusha is boiled in milk and is used regularly.
INDICATIONS
Visarpa Erysipelas, Mutrakrichra Urinary retention, Raktavikara Bleeding disorders, Daha Burning sensation, Trishna Excessive thirst, Ashmari Renal calculi, Visha Toxic conditions, Vastivikara Bladder disorders, Pradara Leucorrhoea.
USEFUL PART: Root
DOSAGE: Decoction- 50-70 ml
AYURVEDIC FORMULATION:
Ashmarihara Kashaya
Stanyajanana kashaya
Chandanadi tail
Kapooradi arka