BOTANICAL NAME: Benincasa cerifera
FAMILY: Cucurbitaceae
CLASSICAL CLASSIFICATION:
Bhavaprakash: Shaka varga
ENGLISH NAME: Winter melon, ashgourd, white gourd
COMMON NAME:
Hindi: Petha, rukassa
Bengali: Kumada
Kannada: Boodu kumbana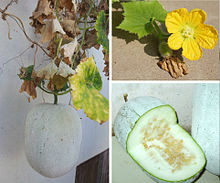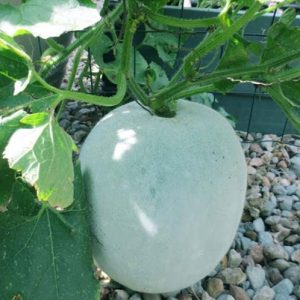 REFERENCE: BHAVAPRAKASH SAMHITA with link e Nighantu:
https://niimh.nic.in/ebooks/e-Nighantu/bhavaprakashanighantu/?mod=read
कूष्माण्डं स्यात्पुष्पफलं पीतपुष्पं बृहत्फलम् |

कूष्माण्डं बृंहणं वृष्यं गुरु पित्तास्रवातनुत् |

बालं पित्तापहं शीतं मध्यमं कफकारकम् ||४५||

वृद्धं नातिहिमं स्वादु सक्षारं दीपनं लघु |

बस्तिशुद्धिकरं चेतोरोगहृत्सर्वदोषजित् ||४६||
HABITAT: Cultivated in almost all parts of India
BOTANICAL DESCRIPTION:
It is a creeper with branched tendrils. Kushmanda stems are thick, hairy, grooved prominent and covered with sharp bristles. The stems are dressed with large five lobed leaves of roughly textured. The leaves are round and kidney shaped with upper rough surface. These have beautiful flowers of golden yellow colour. These flowers form the leaf axils during early summer.
AYURVEDIC CHARACTERISTICS:
RASA
GUNA
VEERYA
VIPAKA
PRABHAVA
DOSHGHNTA
Madhura
Laghu

Snigdha

Sheeta
Madhura
Medhya
vatpithara
AYURVEDIC ENERGETICS:
TASTE

PROPERTY

POTENCY

POST DIGESTIVE EFFECT

EFFECT ACTION

DOSHA ACTION

Sweet

Lightness

Slimy

Cold

Sweet

Improves intelligence

Vatapitta

Pacifying
MAJOR CHEMICAL CONSTITUENTS:
THERAPEUTIC USES:
Haemorrhoids: Kushmandpaka is given to the patient.
Rajyakshma: Juice of Kushmanda is used in case of presence of blood in sputum.
Krimi roga: Seeds or seed oil is quite effective in worm infestation.
Unmada: Its juice is orally taken.
INDICATIONS:
Mutraghata Urinary disorders, Prameha Diabetes, Mutrakrichra Dysuria, Ashmari Renal calculi, Trishna Excessive thirst, Aruchi Anorexia, Raktapitta Epistaxis, Apasmara Epilepsy, Anidra Insomia, Arsha Haemorrhoids
USEFUL PART: Fruit, seed, seed oil
DOSAGE: Seed powder 3-6g, Seed oil 5 ml
AYURVEDIC FORMULATION:
Kushmanda rasayan
Sri gopal taila