BOTANICAL NAME: Saussurea lappa
FAMILY: Compositae
CLASSICAL CLASSIFICATION:
Charaka: Shukrashodhana, Lekhaniya, Asthapanopaga
Sushruta: Eladi gana
Bhavaprakash: Haritakiyadi varga
ENGLISH NAME: Costus
COMMON NAME:
Bengali: Kudo
Hindi: Kutha
Kannada: Changal Kustha
Punjabi: Kuth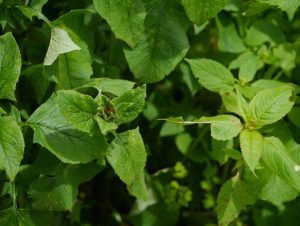 REFERENCE: BHAVAPRAKASH SAMHITA with link e Nighantu:
https://niimh.nic.in/ebooks/e-Nighantu/bhavaprakashanighantu/?mod=read
कुष्ठरोगाह्वयं वाप्यं पारिभव्यं तथोत्पलम् |

कुष्ठमुष्णं कटु स्वादु शुक्रलं तिक्तकं लघु |

हन्ति वातास्रवीसर्पकासकुष्ठमरुत्कफान् ||१५२|| (Haritkyadi varg)
HABITAT: found in Kashmir at an altitude of 2500-3600m.
BOTANICAL DESCRIPTION:
It is an erect robust perennial herb, 25 to 180cm high with erect stem. Roots are stout, brownish with longitudinal streaks and furrows with reticulate surface having characteristic odor. The leaves are simple, alternate, membranous & glabrate beneath, irregularly toothed. Flowers are in axillary terminal clusters, bluish purple rounded 3 to 5cm diameter, with head inflorescence. Fruits are achenes about 3mm long, curved, compressed. Pappus about 1.7cm long, feathery and brown.
AYURVEDIC CHARACTERISTICS:
| | | | | | |
| --- | --- | --- | --- | --- | --- |
| RASA | GUNA | VEERYA | VIPAKA | PRABHAVA | DOSHGHNTA |
| Katu, Tikta | Laghu | Ushna | Katu | | Kaphavatajita |
AYURVEDIC ENERGETICS:
TASTE

PROPERTY

POTENCY

POST DIGESTIVE EFFECT

EFFECT ACTION

DOSHA ACTION

Pungent

Bitter

Lightness

Hot

Pungent

–

Kaphvata

Pacifying
MAJOR CHEMICAL CONSTITUENTS: Essential oils, alkaloids (saussurine) and bitter resin.
THERAPEUTIC USES:
Headache: It is taken along with Erandamoola and then paste is prepared using Kanji is used in headache.
Shopha: Local application of Kustha with Gulab jal should be done.
Hikka: Dhoompana with Kushtha powder is to be done
Amvata: Powder of drug is orally taken with Arind oil.
INDICATIONS:
Kasa Cough, Shwasa Bronchial asthma, Visuchika Dysentery, Twakaroga Skin disorders, Apasmara Epilepsy, Amvata Rheumatoid arthritis, Kashthartava Dysmenorrhea, Udararoga Ascites, Shiroshoola Headache, Vranaropana Wound healing, Mutrala Diuretic
USEFUL PART: Roots.
DOSAGE: 0.2-1.0 g of drug in powder form.
AYURVEDIC FORMULATION:
Kttoamacukkadi taila
Narayan taila