BOTANICAL NAME: Holarrhena antidysenterica.
FAMILY: Apocynaceae
CLASSICAL CLASSIFICATION:
Charaka: Arshoghna, Kandughna, Stanyashodhana, Asthapanopaga
Sushruta: Aragvadhadi, Pippalyadi, Haridradi, Lakshadi
Bhavaprakash: Guduchyadi varga
ENGLISH NAME: Ester tree, Conessi bark.
COMMON NAME:
Bengali: Kurchi
Hindi: Kurchi, Kuraiya
Kannada: Kodasige, Halagattigida, Halagatti Mara
Punjabi: Kurasukk, Kura.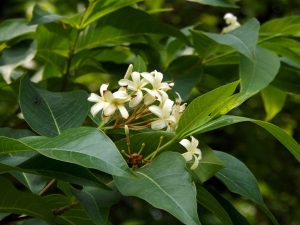 REFERENCE: BHAVAPRAKASH SAMHITA with link e Nighantu:
https://niimh.nic.in/ebooks/e-Nighantu/bhavaprakashanighantu/?mod=read
कुटजः कूटजः कीटो वत्सको गिरिमल्लिका |

कालिङ्गः शक्रशाखी च मल्लिकापुष्प इत्यपि |

इन्द्रो यवफलः प्रोक्तो वृक्षकः पाण्डुरद्रुमः ||१०१||

कुटजः कटुको रूक्षो दीपनस्तुवरो हिमः |

अर्शोऽतिसारपित्तास्रकफतृष्णामकुष्ठनुत् ||१०२|| (Guduchyadi varg)
HABITAT: Throughout India
BOTANICAL DESCRIPTION:
It is a small tree or a shrub covered with pale bark. The leaves are opposite, ovate to elliptic, obtusely acuminate tip, glabrous, base usually obtuse, with very short petiole. Inflorescence is corymbose cyme. Flowers are aromatic, creamish white in color, tubular shaped. Fruits are follicles, 20-40cm long, cylindrical often dotted with white spots
AYURVEDIC CHARACTERISTICS:
| | | | | | |
| --- | --- | --- | --- | --- | --- |
| RASA | GUNA | VEERYA | VIPAKA | PRABHAVA | DOSHGHNTA |
| Tikta,Ksaya | Laghu, ruksa | Sita | Katu | – | Kaphpittasamaka |
AYURVEDIC ENERGETICS:
TASTE

PROPERTY

POTENCY

POST DIGESTIVE EFFECT

EFFECT ACTION

DOSHA ACTION

Bitter

Astringent

Lightness

Dryness

Cold

Katu

–

Kaphpitta Pacifying
MAJOR CHEMICAL CONSTITUENTS: Conessine and related alkaloids.
THERAPEUTIC USES:
Amatisara and raktatisara: Decoction or hot infusion of its powder should be used along with Mochrasa.
Amvata: Local application of paste of Kutaj shound be done in case of inflammation of joints.
Dental problems: Gargling is to be done with its decoction.
INDICATIONS
Kandu itching, Krimi Worm infestation, Arsh haemorrhoids, Raktatisara Bloody diarrhea, Jeernajwara Chronic fever, Raktasrava Excessive bleeding, Shwasa Asthma, Grahni Irritable bowel syndrome
USEFUL PART: Bark, Seeds.
DOSAGE: 20-30 g of the drug for decoction.
AYURVEDIC FORMULATION:
Kutajavleha
Kutajaghana vati
Kutajarishtha.