BOTANICAL NAME: Mimosa pudica
FAMILY: Mimosae
CLASSICAL CLASSIFICATION:
Charaka: Sandhaniya, Purishsangrahaniya,
Sushruta: Priyangvadi gana, Ambasthadi gana
Bhavaprakash: Guduchyadi varga
ENGLISH NAME: Sensitive plant, touch me not plant
COMMON NAME:
Hindi: Lajjalu, chuimui
Bengali: Lajjavati
Kannada: Nachike mullu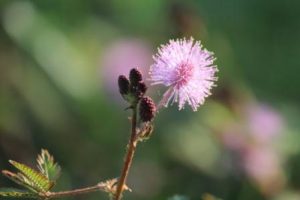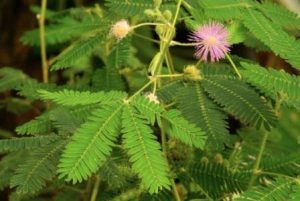 REFERENCE: BHAVAPRAKASH SAMHITA with link e Nighantu:
https://niimh.nic.in/ebooks/e-Nighantu/bhavaprakashanighantu/?mod=read
लज्जालुः स्याच्छमीपत्रा समङ्गा जलकारिका |

रक्तपादी नमस्कारी नाम्ना खदिरकेत्यपि ||२३०||

लज्जालुः शीतला तिक्ता कषाया कफपित्तजित् |

रक्तपित्तमतीसारं योनिरोगान् विनाशयेत् ||२३१||
HABITAT: Native to Brazil but found all over India
BOTANICAL DESCRIPTION:
It is a small thorny shrub which grows upto 100cm in height. The stalk of the leaf is long and 4 leaves in the form of paw arise from it. Leaves highly resemble with that of khadir leaves and they
are arranged symmetrically and close on touch; hence the name sensitive plant. The flowers are pink in color, delicate arise from the tip of stalk. Fruits are in form of legumes which are 1.5-2cm long, bearing thorns. Each legume contains 3-4 seeds.
AYURVEDIC CHARACTERISTICS:
RASA
GUNA
VEERYA
VIPAKA
PRABHAVA
DOSHGHNTA
Kashaya

tikta

Laghu

Rooksha

Sheeta
Katu
–
Kaphapitthara
AYURVEDIC ENERGETICS:
TASTE

PROPERTY

POTENCY

POST DIGESTIVE EFFECT

EFFECT ACTION

DOSHA ACTION

Astringent

Bitter

Lightness

Dryness

Cold

Pungent

–

Kaphpitta

Pacifying
MAJOR CHEMICAL CONSTITUENTS: Mimosin and turgorin
THERAPEUTIC USES:
Haemorrhoids: Powder of the leaves of lajjalu should be given with milk.
Diarrhoea: Decoction of this plant is consumed thrice a day to treat diarrhea.
Wound healing: Paste of this plant is externally applied over the fresh wounds to stop bleeding.
Menorrhagia: Fresh juice or decoction is useful in various menstrual disorders.
INDICATIONS
Atisara Diarrhoea, Arsha Haemorrhoids, Shrama fatigue, Vrana wounds, Shwasa Asthma, Kustha Skin disorders, Raktavikara bleeding disorders, Daha Burning sensation, Raktapitta Epistaxis, Shotha Inflammation
USEFUL PART: Root, whole plant
DOSAGE: Fresh juice 10-20 ml, Decoction: 50-100ml
AYURVEDIC FORMULATION:
Kutaja avaleha
Samangadi churna
Lakshadi churan