BOTANICAL NAME: Caesalpinia crista
FAMILY: Caesalpiniaceae
CLASSICAL CLASSIFICATION:
Bhavaprakash: Guduchyadi varga
ENGLISH NAME: Fever nut
COMMON NAME:
Hindi: Kantakareja
Kannada: Gajjuga Kayi, Gajjuga mara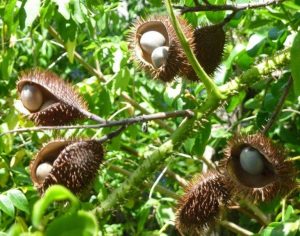 HABITAT: Found in South eastern parts of India
BOTANICAL DESCRIPTION:
Lata karanja is a prickly shrub or woody vine having a length of 10 meter. Latakaranja leaves are alternate, bi-pinnate, often nearly 1 m long, with the rachis armed with stout, sharp, recurved spines. The leaflets also 4-6 in number, 2 to 5 cm long, oblong, and hairy. The flowers are yellow in color, 1cm long, borne in axillary, simple or panicled raceme. Fruits are pods, 5 to 7 cm in length, oblong, inflated, and covered with slender spines & bear one or two seeds. The seeds are large, rounded or ovoid, hairy, gray and shiny.
AYURVEDIC CHARACTERISTICS:
RASA
GUNA
VEERYA
VIPAKA
PRABHAVA
DOSHGHNTA
Tikta, Kashaya
Laghu

Rooksha

Ushana
Katu
–
Tridoshshamak
AYURVEDIC ENERGETICS:
TASTE

PROPERTY

POTENCY

POST DIGESTIVE EFFECT

EFFECT ACTION

DOSHA ACTION

Bitter

Astringent

Lightness

Dryness

Hot

Pungent

–

Tridosha

Pacifying
MAJOR CHEMICAL CONSTITUENTS: Bonducin
THERAPEUTIC USES:
Visham jwara: Seed powder is given along with black pepper in malaria.
Udarashoola: Dhoompana with its powder is quite effective in udarashoola.
Amvata: Oil extracted from the seeds of Latakaranja is locally applied over the affected joints. It is also used as ear drops in ear problems.
Kasa and Shwasa: Decoction prepared from its seeds is used in condition of shwasa and kasa.
INDICATIONS
Jwara fever, Shotha Inflammation, Raktasrava Excessive bleeding, Shoola Pain, Krimi Worm infestation, Shwasa Asthma, Twaka vikara Skin disorders, Vrana Wound, Visham Jwara malaria, Kushtha leprosy, Chardi Vomiting
USEFUL PART: Seed
DOSAGE: 1 to 3 gm (Powder)
AYURVEDIC FORMULATION:
Vishmajwaraghani Vati