BOTANICAL NAME: Hibiscus abelmoschus
FAMILY: Malvaceae
CLASSICAL CLASSIFICATION:
Bhavaprakash: Karpuradi varga
ENGLISH NAME: Musk Seed, Musk Mallow, Ambrette Seed.
COMMON NAME:
Tamil: Kasturi-vendai
Punjabi: Mushak Dana, Lata Kasturi
Kannada: Kasturi Kande, Kadu Kastuar
Bengali: Latakastur
Hindi: Bhinda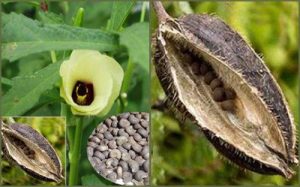 REFERENCE: BHAVAPRAKASH SAMHITA with link e Nighantu:
https://niimh.nic.in/ebooks/e-Nighantu/bhavaprakashanighantu/?mod=read
लता कस्तूरिका तिक्ता स्वाद्वी वृष्या हिमा लघुः |

चक्षुष्या छेदिनी श्लेष्मतृष्णाबस्त्यास्यरोगहृत् ||९||
HABITAT: Throughout the warmer parts and hilly regions of India; also cultivated.
BOTANICAL DESCRIPTION: It is erect, annual or biennial, hirsute herb, 0.6-1.8 m in height
Leaves are polymorphous, lower ovate, acute, upper palmately 3-7 lobed. Flowers are bright yellow, large, solitary, axillary, recemes. Fruit are capsules, 6.5-6.7 cm, long, ovate, acute, hispids. Seeds are subreniform, black, musk scented. Flowering time is in cold season
AYURVEDIC CHARACTERISTICS:
RASA
GUNA
VEERYA
VIPAKA
PRABHAVA
DOSHGHNTA
Madhura,

Katu,

Tikta

Laghu
Shita
Madhura
Kaphahara
AYURVEDIC ENERGETICS:
TASTE

PROPERTY

POTENCY

POST

DIGESTIVE EFFECT

EFFECT

ACTION

DOSHA

ACTION

Bitter,Pungent,sweet

lightness

cold

sweet

kapha

Pacifying
MAJOR CHEMICAL CONSTITUENTS: Fixed Oil and Volatile Oils
THERAPEUTIC USES:
Aphrodisiac-Seeds are soaked in water for 1-2 hours and later added to 4 times hot water. Macerated and filtered.
Mouth ulcers- The fresh decoction of the seeds is taken by adding sugar candy.
Burning sensation in scalp –The leaf or root are taken and fine paste is made by pounding with water or aloe vera juice/pulp. This is applied to the forehead or middle of the scalp.
Dryness of mouth-Fine powder of the seeds is retained in the mouth or chewed. for 5-10 minutes of time.
INDICATIONS
Trishna Excessive thirst, Mukha Roga Oral disorders, Vasti Roga Urinary bladder disorders.
USEFUL PART: Seeds
DOSAGE: 2- 4 gm in powder form
AYURVEDIC FORMULATION:
Karpuradyarka