BOTANICAL NAME: Syzygium aromaticum
FAMILY: Myrtaceae
CLASSICAL CLASSIFICATION:
Bhavaprakash: Karpuradi varga
ENGLISH NAME: Clove
COMMON NAME:
Bengali: Lavang
Hindi: Lavanga, Laung
Kannada: Lavanga
Punjabi: Laung, Long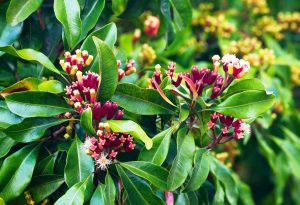 REFERENCE: BHAVAPRAKASH SAMHITA with link e Nighantu:
https://niimh.nic.in/ebooks/e-Nighantu/bhavaprakashanighantu/?mod=read
लवङ्गं देवकुसुमं श्रीसंज्ञं श्रीप्रसूनकम् |
लवङ्गं कटुकं तिक्तं लघु नेत्रहितं हिमम् |
दीपनं पाचनं रुच्यं कफपित्तास्रनाशकृत् ||५१||
तृष्णां छर्दिं तथाध्मानं शूलमाशु विनाशयेत् |
कासं श्वासञ्च हिक्काञ्च क्षयं क्षययति ध्रुवम् ||५२||
HABITAT: Cultivated in many parts of the world and also to a considerable extent in South India.
BOTANICAL DESCRIPTION:
It is an evergreen tree, 6-10m tall. Bark of trunk is yellowish white. Leaves are ovate oblong, fragrant. Fruit are fleshy, Long, dark pink drupes. Seeds are oblong, grooved on one side.
AYURVEDIC CHARACTERISTICS:
| | | | | | |
| --- | --- | --- | --- | --- | --- |
| RASA | GUNA | VEERYA | VIPAKA | PRABHAVA | DOSHGHNTA |
| Tikta,katu | Laghu,snigdha | Sita | Katu | | Pitta samak |
AYURVEDIC ENERGETICS:
TASTE

PROPERTY

POTENCY

POST

DIGESTIVE EFFECT

EFFECT

ACTION

DOSHA

ACTION

Bitter, Pungent

Unctuous, lightness,

cold

Pungent

Pitta

Pacifying
MAJOR CHEMICAL CONSTITUENTS: Essential oils (eugenol acetate and caryophyllene).
THERAPEUTIC USES:
Tooth cavities– When there are painful cavities in the tooth, a small sterile cotton ball dipped in or added with clove essential oil is put in the cavity. This relieves pain related to cavities and dental caries.
Acne- A mixture of 3 drops of clove essential oil and 2 teaspoons full of raw honey can be used as face wash to get rid of acne.
Headache- It is mixed with salt and applied on the forehead of the person suffering from headache.
INDICATIONS
Amlapitta Acidity, Swasa Asthma, Chardi Vomiting, Hikka Hiccups, Kasa Cough.
USEFUL PART: Flower bud
DOSAGE: 0.5-2.0 g of the drug in powder form.
AYURVEDIC FORMULATION:
Lavangadi vati
Lavangadi curna