BOTANICAL NAME: Symplocos racemosa.
FAMILY: Symplocaceae
CLASSICAL CLASSIFICATION:
Charaka: Sonitasthapana, Sandhaneeya, Pureesha sangrahaniya, Kashaya skandha
Sushruta: Lodhradi, Nayarodhadi
Bhavaprakash: Haritakyadi varga
ENGLISH NAME: Symplocos bark
COMMON NAME:
Bengali: Lodha, Lodhra
Hindi: Lodha
Kannada: Lodhra
Punjabi: Lodhar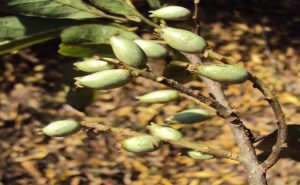 REFERENCE: BHAVAPRAKASH SAMHITA with link e Nighantu:
https://niimh.nic.in/ebooks/e-Nighantu/bhavaprakashanighantu/?mod=read
लोध्रस्तिरीटकश्चैव शावरो मालवस्तथा |
द्वितीयः पट्टिकालोध्रः क्रमुकः स्थूलवल्कलः |
जीर्णपत्रो बृहत्पत्रः पट्टी लाक्षाप्रसादनः ||१८८||
लोध्रो ग्राही लघुः शीतश्चक्षुष्यः कफपित्तनुत् |
कषायो रक्तपित्तासृग्ज्वरातीसारशोथहृत् ||१८९||
HABITAT: found abundantly in plains and lower hills, throughout India.
BOTANICAL DESCRIPTION:
It is medium size tree, 6m tall. Leaves are broad, elliptic-oblong and acute. Flowers are White to whitish yellow. The fruits are drupe, purplish black.
AYURVEDIC CHARACTERISTICS:
| | | | | | |
| --- | --- | --- | --- | --- | --- |
| RASA | GUNA | VEERYA | VIPAKA | PRABHAVA | DOSHGHNTA |
| Ksaya | Laghu, Ruksa | Sita | Katu | | Kaphpitsamak |
AYURVEDIC ENERGETICS:
TASTE

PROPERTY

POTENCY

POST

DIGESTIVE EFFECT

EFFECT

ACTION

DOSHA

ACTION

Astringent

lightness, dryness

cold

Pungent

kaphaPitta

Pacifying
MAJOR CHEMICAL CONSTITUENTS: Alkaloids (loturine and colloturine) and red coloring matter.
THERAPEUTIC USES:
Acne-Paste of lodhra and sphatika should be applied.
Ulcers-Application of fine powder of lodhra tvak.
Pravahika – Lodhra with curd is useful in dysentery.
Fever – The decoction of lodhra, utpala, guduchi, Kamala and sariva or parpata alone mixed with sugar is used.
INDICATIONS
Sotha Inflammation, Atisara Diarrhea, Raktapitta Bleeding disorders, Pradara leucorrhoea.
USEFUL PART: Bark.
DOSAGE: 3-5 g of the drug in powder form, 20-30 g of the drug in for decoction.
AYURVEDIC FORMULATION:
Lodhrasava,
Lodhradi churna.