BOTANICAL NAME: Randia spinosa
FAMILY: Rubiaceae
CLASSICAL CLASSIFICATION:
Charaka: Asthapanopaga, Anuvasnopaga, Phalini, Vamana dravya
Sushruta: Urdhabhagahar, Argvadhadi and Muskakadi
Bhavaprakash: Haritkyadi varga
ENGLISH NAME: Emetic nut.
COMMON NAME:
Bengali: Mainaphal, Mayanaphal
Hindi: Manphal
Kannada: Mangarikai, Karigidda, Madanaphala Maggrekai, Kari, Maggare Kayi
Punjabi: Mindhal, Rara, Manphal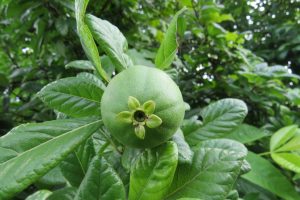 REFERENCE: BHAVAPRAKASH SAMHITA with link e Nighantu:
https://niimh.nic.in/ebooks/e-Nighantu/bhavaprakashanighantu/?mod=read
मदनश्छर्दनः पिण्डो नटः पिण्डीतकस्तथा |
करहाटो मरुबकः शल्यको विषपुष्पकः ||१४१||
मदनो मधुरस्तिक्तो वीर्योष्णो लेखनो लघुः |
वान्तिकृद्विद्रधिहरः प्रतिश्यायव्रणान्तकः |
रूक्षः कुष्ठकफानाहशोथगुल्मव्रणापहः ||१४२||
HABITAT: found in sub-Himalayan tracts extending eastwards in Sikkim upto 1200 m and southwards to Peninsular India.
BOTANICAL DESCRIPTION: It is a large shrub or small tree with spines. Leaves are ovate, Obtuse, wrinkled, pubescent above. Flowers are White or yellow. Fruit is like small crab. Seeds are Many, black, flat and embedded in pulp.
AYURVEDIC PROPERTIES:
| | | | | | |
| --- | --- | --- | --- | --- | --- |
| RASA | GUNA | VEERYA | VIPAKA | PRABHAVA | DOSHGHNTA |
| Madhur, Tikta | Laghu, Ruksa | Usna | Katu | Vamana, Lekhna | Kaphvatsamak |
AYURVEDIC ENERGETICS:
TASTE

PROPERTY

POTENCY

POST

DIGESTIVE EFFECT

EFFECT

ACTION

DOSHA

ACTION

Bitter,Sweet

Dryness lightness,

hot

Pungent

Kapha vata

Pacifying
MAJOR CHEMICAL CONSTITUENTS: Essential oil, saponin, tannin and resin.
THERAPEUTIC USES:
To induce vomiting – In 200 ml of hot water 12 gram of Madanaphala seed powder is added and kept for 5-8 minutes. This is given to drink. If the vomiting is not induced properly, slight mustard powder or rock salt are also added.
Eczema-Fresh root of Madanaphala is taken and rubbed well in a stone by adding lemon juice. This is applied over the lesions of eczema and other skin diseases.
Headache- Make paste of flowers with mustard seeds. Apply it on your forehead.
Abdominal colic – Mature fruit of emetic nut is taken and rubbed well with warm water and salt in a mortar. This fine paste is applied around the naval portion.
Wound- The leaf decoction is used.
INDICATIONS:
Gulma Tumor, Kushtha Skin disorders, jwara Fever, Pratishyaya Cold.
USEFUL PART: Fruit
DOSAGE: 0.5 -1.0 g of the drug in powder form for decoction.
3-6 g of the drug for induction of vomiting.
AYURVEDIC FORMULATION:
Pippalyadi Taila.