BOTANICAL NAME: Lawsonia inermis
FAMILY: Lythraceae
ENGLISH NAME: Henna
COMMON NAME:
Hindi: Mehandi
Kannada: Goranta, Korate, Madarangi
Punjabi: Mehndi
Tamil: Marudum
Bengali: Mehadi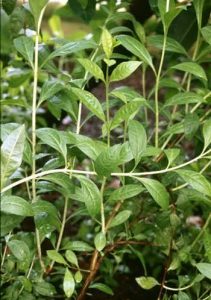 HABITAT: Native to Arabia and Persia; now cultivated mainly in Haryana and Gujarat; to a small extent in Madhya Pradesh and Rajasthan.
BOTANICAL DESCRIPTION: Small herb. Leaves simple, 2 to 3 cm in length, 1 to 1.5 cm in width, greenish-brown to dull green; entire, lanceolate; apex mucronate, base tapering, petiole short and glabrous; odor, aromatic when crushed; taste, sweet, mucilaginous and slightly astringent.
AYURVEDIC PROPERTIES:
RASA
GUNA
VEERYA
VIPAKA
PRABHAVA
DOSHGHNTA
Tikta,

Kashaya

Laghu,

Ruksha

Shita
Katu
Kapha Pitta Shamak
AYURVEDIC ENERGETICS:
TASTE

PROPERTY

POTENCY

POST

DIGESTIVE EFFECT

EFFECT

ACTION

DOSHA

ACTION

Bitter,Astringent

Dryness, lightness

cold

Pungent

Kapha pitta

Pacifying
MAJOR CHEMICAL CONSTITUENTS: Glycosides, coloring matter (Lawsone), Hennotannic acid, Essential Oil containing β-Ionone.
THERAPEUTIC USES:
Graying of hair-Mature leaves are made into fine paste. Apply this to scalp.
Dysuria- 10-15 ml of fresh juice of leaves is added with 3-5 gram of sugar and
10-15 ml of fresh juice of Durva (Cynodon dactylon). This juice mix is administered in a dose of 15 ml, 2 times a day.
Constipation– 5-10 gram of henna leaves and 5-10 grams of raisins are taken and fine paste is made. This is administered at night, after food in a dose of 10-20 grams.
Jaundice- 1 fist full of each of Henna and Phyllanthus indica are taken and pounded with 10 grams of cumin seeds. This helps to mask the peculiar smell. Fresh juice is extracted and filtered. This, in a dose of 1–15 ml, is administered along with sweet buttermilk in the morning, on empty stomach.
INDICATIONS:
Jvara Fever, Kandu Worm infestations, Kushtha Skin disorders, Raktapitta Bleed disorders, Kamala jaundice, Vrana Wounds.
USEFUL PART: Leaves
DOSAGE: 5-10ml (Svarasa)
AYURVEDIC FORMULATION:
Madayanyadi Churna