BOTANICAL NAME: Madhuca longifolia
FAMILY: Sapotaceae
CLASSICAL CLASSIFICATION:
BHAVAPRKASH– amradi phala varga
ENGLISH NAME: Butter tree, Honey tree
COMMON NAME:
Hindi name: Mahua, mahva, mahwa
Bengali name: Mahuya, Mohua
Kannada name: Hippe mara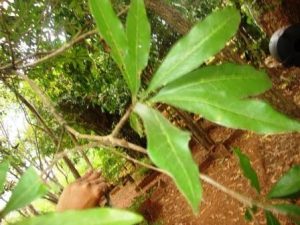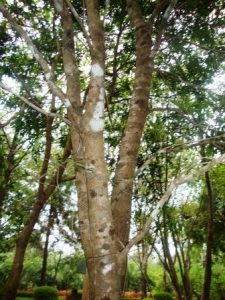 REFERENCE: BHAVAPRAKASH SAMHITA with link e Nighantu:

https://niimh.nic.in/ebooks/e-Nighantu/bhavaprakashanighantu/?mod=read
मधूको गुडपुष्पः स्यान्मधुपुष्पो मधुस्रवः |
वानप्रस्थो मधुष्ठीलो जलजेऽत्र मधूलकः ||७९||
मधूकपुष्पं मधुरं शीतलं गुरु बृंहणम् |
बलशुक्रकरं प्रोक्तं वातपित्तविनाशनम् ||८०||
फलं शीतं गुरु स्वादु शुक्रलं वातपित्तनुत् |
अहृद्यं हन्ति तृष्णाऽस्रदाहश्वासक्षतक्षयान् ||८१||
HABITAT: The tree is found in states of North India like Uttar Pradesh and Bihar.
BOTANICAL DESCRIPTION: Madhuka is a fast-growing tree that grows to approximately 15-18 meters in height, possesses evergreen or semi-evergreen foliage. The flowers are pale yellow and sweet in taste from which alcohol is prepared. The fruits are small and round in shape. The seeds of the tree yields oil.
AYURVEDIC CHARACTERISTICS: Ref. By P.V.Sharma Dravyguna Vigyan
RASA
GUNA
VEERYA
VIPAKA
PRABHAVA
DOSHGHNTA
Madhura, kashaya
Guru, snigdha
Sheeta
Madhura
____
Vatapitta shamaka,

Khapha vardhak
AYURVEDIC ENERGETICS:-
| | | | | | |
| --- | --- | --- | --- | --- | --- |
| TASTE | PROPERTY | POTENCY | POST DIGESTIVE EFFECT | EFFECT ACTION | DOSHA ACTION |
| Sweet, astringent | Heavy, unctuous | Cold | Sweet | ____ | Vata pitta pacifying |
MAJOR CHEMICAL CONSTITUENTS: The fruit pulp yields triterpenoids, n –hexacosanol, beta– D- glucoside of beta- sitosterol. The nut shell has qurcetin and dihydroquercetin. The seeds yield saponins-2,3-di-O- glucopyranoside of basic acid. The bark of the trunk contains lupeol acetate, beta- amyrin acetate, alpha- spinasterol, erythrodiol monocaprylate, betulinic acid and oleanolic acid.
THERAPEUTIC USES:
SKIN DISEASES– Oil extracted from seeds of madhuka applied over area affected with skin diseases.
GENERAL DEBILITY Cold infusion prepared from flowers to treat general debility.
Indications:
Kushtha Skin diseases, Netra daha Burning sensation of eyes, Shiroroga Headache, Atisara Diarrhoea
USEFUL PART:Flowers, Seeds and Oil
DOSAGE: Juice of flower- 10 to 20 ml
Decoction of bark- 50 to 75 ml
AYURVEDIC FORMULATION:
1 Madhukasava Abhayarishta
2 Chandanasava
3 Nyagrodhadi churna
4 Lakshmanarishta