BOTANICAL NAME: Melia azedarach
FAMILY: Meliaceae
CLASSICAL CLASSIFICATION:
Charaka: Kandughna,Tikka Skandha
Sushruta:Aragwadhadi, Guduchyadi and Lakshadi
Bhavaprakash : Guduchyadi varga
ENGLISH NAME: Persian Lilac
COMMON NAME:
Hindi: Bakain, Drek
Kannada: Kadu bevu
Bengali: Ghoranim
Punjabi: Dharek, Bakain, Drek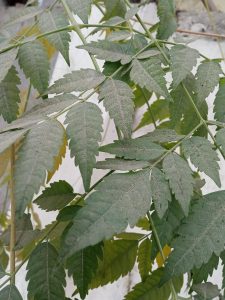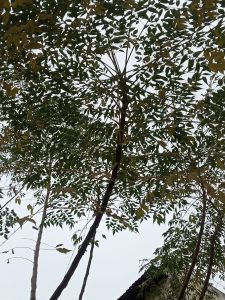 REFERENCE: BHAVAPRAKASH SAMHITA with link e Nighantu:
https://niimh.nic.in/ebooks/e-Nighantu/bhavaprakashanighantu/?mod=read
महानिम्बः स्मृतो द्रेका रम्यको विषमुष्टिकः |

केशामुष्टिर्निम्बकश्च कार्मुको जीव इत्यपि ||८५||

महानिम्बो हिमो रूक्षस्तिक्तो ग्राही कषायकः |

कफपित्तभ्रमच्छर्दिकुष्ठहृल्लासरक्तजित् |

प्रमेहश्वासगुल्मार्शोमूषिकाविषनाशनः ||८६||
HABITAT: Native to Burma; found all over India.
BOTANICAL DESCRIPTION: It is Medium-sized tree with 15 m height, with short erect trunk and broad crown. Leaves are bipinnate, 3-12 leaflets, ovate/lanceolate/alternate, serrate/entire, oblique base, flower are Liliac, honey scented, fruits are 5 seeded and flowering time :- feb-april, fruiting time:- October to December
AYURVEDIC PROPERTIES:
RASA
GUNA
VEERYA
VIPAKA
PRABHAVA
DOSHGHNTA
Katu,

Tikta,

Kashaya

Ruksha
Shita
Katu
Pitta Kapha Hara
AYURVEDIC ENERGETICS:
TASTE

PROPERTY

POTENCY

POST

DIGESTIVE EFFECT

EFFECT

ACTION

DOSHA

ACTION

Bitter,pungent,Astringent

Dryness

cold

Pungent

Kapha pitta

Pacifying
MAJOR CHEMICAL CONSTITUENTS: Tannins and Alkaloids.
THERAPEUTIC USES:
Antifungal and antibacterial paste: The leaves of neem can be used to cure fungal and bacterial infections. Make a paste of tree leaves and apply it to the infection for relief. Neem leaves paste is also used for treating chickenpox boils.
Arthritis-You can apply neem oil in your affected area.
Dental health: Chewing neem leaves can be beneficial for maintaining good oral health.Small branches or twigs can be used for brushing your teeth.
Boost immunity: Add neem to your tea to boost immunity in your body against diseases such as common cold and fever.
Acne: Apply Neem oil on acne .
INDICATIONS:
Arsha Hemorrhoids, Chardi Vomitings, Gulma Tumor, Kustha Skin disorders, Prameha Diabetes , Shwasa Asthma
USEFUL PART: Seed, flower, leaves, bark, gum
DOSAGE: 5-10 gm.
AYURVEDIC FORMULATION:
Brhanmanjisadi Kvatha Churna
Maha Vishagarbha Taila.