BOTANICAL NAME: Rubia cordifolia
FAMILY: Rubiaceae
CLASSICAL CLASSIFICATION:
Charaka: Jvarahara,Varnya,Vishaghna
Sushruta: Priyangvadi and Pittasamshamana
Bhavaprakash: Haritkyadi varga
ENGLISH NAME: Indian Madder
COMMON NAME:
Hindi name: Manjitha, Manjit
Sanskrit name: Yojnavalli, Vastrarajini, Rakta,
Kannada name: Manjustha
Punjabi name: Manjistha, Manjit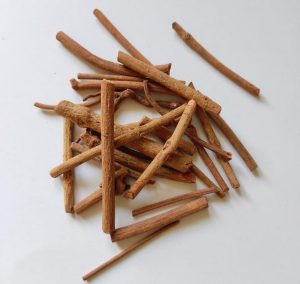 REFERENCE: BHAVAPRAKASH SAMHITA with link e Nighantu:
https://niimh.nic.in/ebooks/e-Nighantu/bhavaprakashanighantu/?mod=read
मञ्जिष्ठा विकसा जिङ्गी समङ्गा कालमेषिका |
मण्डूकपर्णी भण्डीरी भण्डी योजनवल्ल्यपि ||१६५||

रसायन्यरुणा काला रक्ताङ्गी रक्तयष्टिका |

भण्डीतकी च गण्डीरी मञ्जूषा वस्त्ररञ्जिनी ||१६६||

मञ्जिष्ठा मधुरा तिक्ता कषाया स्वरवर्णकृत् |

गुरुरुष्णा विषश्लेष्मशोथयोन्यक्षिकर्णरुक् |

रक्तातीसारकुष्ठास्रवीसर्पव्रणमेहनुत् ||१६७||

HABITAT: Throughout India.
BOTANICAL DESCRIPTION: Perennial, herbaceous climber, Stem slender, more or less cylindrical, slightly flattened, wiry, about 0.5 cm thick, brown to purple coloured. Mature stem shows exfoliating cork, ruptured at places, forming dome-shaped structure, consisting of 3-12 or more layered radially arranged.
AYURVEDIC PROPERTIES:
| | | | | | |
| --- | --- | --- | --- | --- | --- |
| RASA | GUNA | VEERYA | VIPAKA | PRABHAVA | DOSHGHNTA |
| Madhura, Tikta, Kashaya | Guru | Usna | Katu | Varnya | Kapha Pitta Shamak, |
AYURVEDIC ENERGETICS:
TASTE

PROPERTY

POTENCY

POST

DIGESTIVE EFFECT

EFFECT

ACTION

DOSHA

ACTION

Sweet, pungent, Astringent

Heaviness

Hot

Pungent

Improve skin complexion

Kapha pitta

Pacifying
MAJOR CHEMICAL CONSTITUENTS: Glycosides
THERAPEUTIC USES:
Pimples and dark spots- Manjistha stem or roots fine powder is rubbed well with water and applied over the skin lesions of pimples and dark spots.
Chronic ulcers- Manjistha decoction is made and used to wash the wounds in case of chronic wounds, non healing ulcers etc.
Blisters, boils- 20-30 gram of coarse powder is soaked in 200-300 ml of water and kept overnight. This is macerated well and taken early morning.
Skin diseases- Manjishtha and Sariva (Hemidesmus indicus) made into decoction.
Burns- Manjista, Teak wood tender leaves and red sandal wood are taken in equal quantity and ghee or oil is processed. This oil or ghee is used to apply over the burns and scalds.
INDICATIONS:
RaktAtisar Diarrhea with bleeding, Shotha Inflammatory conditions, Akshiruk Eye pain, Karnaruk Ear pain , Kushta Skin diseases , Asra Blood vitiation
USEFUL PART: Root
DOSAGE: 2-4 g. of the drug.
AYURVEDIC FORMULATION:
Arvindasava
Ushirasava
Candasava
Manjishthadi Taila