BOTANICAL NAME: Piper nigrum
FAMILY: Piperaceae
CLASSICAL CLASSIFICATION:
Charak- Deepaneeya,Krimighana, Shirovirecchanopaga
Susruta– Pippalyyadi, Trayushana
Bhavaprakash: Haritkyadi varga
ENGLISH NAME: Black pepper
COMMON NAME:
Hindi name: kali mirch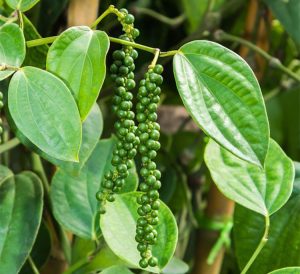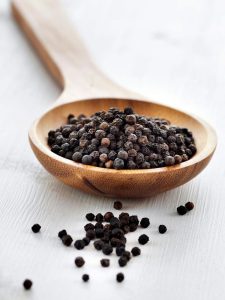 REFERENCE: BHAVAPRAKASH SAMHITA with link e Nighantu:
https://niimh.nic.in/ebooks/e-Nighantu/bhavaprakashanighantu/?mod=read
मरिचं वेल्लजं कृष्णमूषणं धर्मपत्तनम् |
मरिचं कटुकं तीक्ष्णं दीपनं कफवातजित् |
उष्णं पित्तकरं रूक्षं श्वासशूलकृमीन्हरेत् ||५५||
तदार्द्रं मधुरं पाके नात्युष्णं कटुकं गुरु |
किञ्चित्तीक्ष्णगुणं श्लेष्मप्रसेकि स्यादपित्तलम् ||५६||
HABITAT:
Marica consists of fully mature dried fruit of Piper nigrum; a climber, cultivated from Konkan Southwards, especially in North Konkan Kerala, and also in Assam; fruits ripen from December to March, depending upon climatic conditions; fruits harvested from December to April.
BOTANICAL DESCRIPTION:
Fruits greyish-black to black, hard, wrinkled, 0.4-0.5 cm in dia.; odour, aromatic;
taste, pungent. Fruit consists of a thick pericarp for about one third of fruit and an inner mass of
perisperm, enclosing a small embryo.
AYURVEDIC CHARACTERISTICS
RASA

GUNA

VEERYA

VIPAKA

PRABHAVA

DOSHAGHNTA

Katu
Laghu, ruksha,

Tikshna

Usna
Katu
Vatakaphshamak
AYURVEDIC ENERGTICS
TASTE
PROPERTY
POTENCY
POST DIGESTIVE

EFFECT

EFFECT

ACTION

DOSHA ACTON

Pungent

Lightness, strong

Piercing.

Hot

pungent

Pacifying

Vattapitta
MAJOR CHEMICAL CONSTITUENTS: Alkaloids (Piperine, Chavicine, Piperidine, Piperetine) and Essential Oil
THERAPEUTIC USES
Toothache Pepper decoctionis used in gargle in tooth pain
Headache-1/2 gm peeper powder along with onion and salt and applied in headache.
INDICATIONS:
Svasa Asthma, krimirog intestina worms, Twakrog skin disorder, Jwara pyrexia, Aruchi Anorexia.
USEFUL PART: Fruit
DOSAGE:250 mg – 1 g. of the drug in powder form.
AYURVEDIC FORMULATION:
Marichadigutika
Marichaditaila
Marichadichurna
Chandraprabhavati.