BOTANICAL NAME: Cassia angustifolia
FAMILY: Caesalpiniaceae
CLASSICAL CLASSIFICATION:
Bhavaprakash: Guduchyadi varga
ENGLISH NAME: Indian senna, tinnevelly senna
COMMON NAME:
Hindi: Sanaya, hindisana
Kannada: Nelavarika, Sonamukhi, nelaavare, nelavarika.
Bengali: Svamamukhi, sonapata
Punjabi: sannamakhi, sanapati, sarnapatta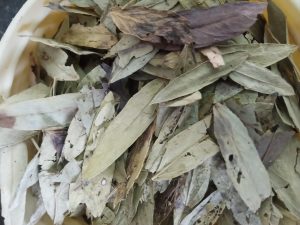 REFERENCE: BHAVAPRAKASH SAMHITA with link e Nighantu:
https://niimh.nic.in/ebooks/e-Nighantu/bhavaprakashanighantu/?mod=read
मार्कण्डिका भूमिवल्ली मार्कण्डी मृदुरेचनी |

मार्कण्डिका कुष्ठहरी ऊर्ध्वाधःकायशोधिनी |

विषदुर्गन्धकासघ्नी गुल्मोदरविनाशिनी ||२४४||

HABITAT: Found in south India like in Madura, Trichannapalli, etc
BOTANICAL DESCRIPTION: It is Small shrub, 61-91cn in height. Leaves are paripinnate, 7-8 pairs of leaflets, glabrous, yellowish green
Flowers are yellow in color. Pods are greenish brown to dark brown . Seeds are 5-7 in number and smooth, dark brown in color. Flowering and fruiting time- throughout the year
AYURVEDIC PROPERTIES:
RASA
GUNA
VEERYA
VIPAKA
PRABHAVA
DOSHGHNTA
Katu

Tikta

Kshaya

Laghu

Ruksha

Tikshna

Usna
Katu
Kaphashamak
AYURVEDIC ENERGETICS:
TASTE

PROPERTY

POTENCY

POST

DIGESTIVE EFFECT

EFFECT

ACTION

DOSHA

ACTION

Bitter, pungent, Astringent

Dryness, lightness,

Pungent

Hot

Pungent

Kapha

Pacifying
MAJOR CHEMICAL CONSTITUENTS: Anthraquinone, Glycoside, flavonoids, steroids and resins
THERAPEUTIC USES:
Constipation – Both the drugs senna and cumin seeds are taken in 4:1 ratio and fine powder is made. This is taken in the dose of 1 gram twice daily.
Heartburn- The drugs Senna and raisins are taken in 1:10 ratio and decoction or hot infusion is made. This is taken whenever needed.
Chronic skin diseases – The drugs Aragwadha, Daruharidra and Senna are taken in 4:2:1 ratio and decoction is made. This is taken in an empty stomach in chronic skin complaints for 14-21 days.
Cough – 1-2 pinch of senna is added to half cup of hot water and kept for a while. Later 1 spoon of honey is added to this and mixed well. This is sipped repeatedly in the conditions of chest congestion and chronic cough.
INDICATIONS:
Visha Toxic conditions, kasa Cough, Gulma Tumor, Udara Roga Ascites
USEFUL PART: Leaves
DOSAGE: 0.5- 2 g powder
AYURVEDIC FORMULATION:
Panchsakar churna
Sarivadyasava