BOTANICAL NAME: Teramnus labialis
FAMILY: Papilionaceae
CLASSICAL CLASSIFICATION:
Charaka: Jivaniya, Shukrajanana,Madhura skandha
Sushruta: Kakolyadi gana, Vidarigandhadi gana
Bhavaprakash: Guduchyadi varga
ENGLISH NAME: Vogel-tephrosis
COMMON NAME:
Hindi: Mashvan, Banvdad, Mashoni
Punjabi: Jangali Urad
Kannada: Kadu Uddu
Bengali: Mashance, Bankalaai, Mashani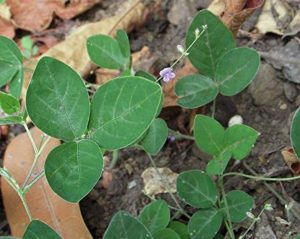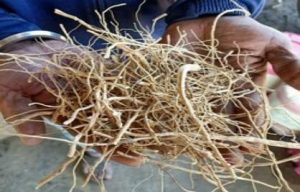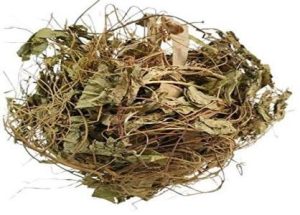 REFERENCE: BHAVAPRAKASH SAMHITA with link e Nighantu:
https://niimh.nic.in/ebooks/e-Nighantu/bhavaprakashanighantu/?mod=read
माषपर्णी सूर्यपर्णी काम्बोजी हयपुच्छिका |

पाण्डुलोमशपर्णी च कृष्णवृन्ता महासहा ||४७||

माषपर्णी हिमा तिक्ता रूक्षा शुक्रबलास्रकृत् |

मधुरा ग्राहिणी शोथवातपित्तज्वरास्रजित् ||४८||

HABITAT: Punjab, eastwards to Bengal, extending southwards into Peninsular India.
BOTANICAL DESCRIPTION: It is a very variable, climbing or wide spreading hairy herb.
Stem is Slender, hairy. Leaves are 3 foliate 6-12 cm long. Leaflets is Membranous, ovate-oblong.
Flowers are Red, pink, purple or white in lax axillary raceme. Fruits are Pods, narrowly linear straight or recurved. Seeds are Oblong, smooth and dark brown.
AYURVEDIC PROPERTIES:
| | | | | | |
| --- | --- | --- | --- | --- | --- |
| RASA | GUNA | VEERYA | VIPAKA | PRABHAVA | DOSHGHNTA |
| Madhura, Tikta | Laghu, Snigdha | Sheeta | Madhura | Rasayan | Vatapittashamak |
AYURVEDIC ENERGETICS:
TASTE

PROPERTY

POTENCY

POST

DIGESTIVE EFFECT

EFFECT

ACTION

DOSHA

ACTION

Sweet, Bitter

lightness, unctuous

sheeta

sweet

rejuvenative

Vata pitta

Pacifying
MAJOR CHEMICAL CONSTITUENTS: Seeds contain potassium, magnesium, calcium, and, phosphorus Crude protein, crude fat, ash, and nitrogen free extracts constituted 22.86%, 6.10%, 4.62%, and,58.15%, respectively, of the seed weight. Caloric value of 100 g dry matter of seed material was 378.94 kcal. The essential amino acids lysine, leucine +isoleucine, arginine, valine and histidine were present in relatively large quantities.
INDICATIONS:
Atisara Diarrhea, Pravahika Dysentery, Jvara Fever, Raktapitta Bleeding disorders, Daha Burning sensation, shotha Inflammation.
USEFUL PART: Panchang, moola
DOSAGE: 3-6 gm of the powder.
AYURVEDIC FORMULATION:
Amritprash Ghrita
Ashoka Ghrita
Vidaryadi Ghrita
Dhanvantara Ghrita
Narayana Taila
Brihat Masha Taila
Bala Taila
Maha Narayani Taila