BOTANICAL NAME: Citrus medica
FAMILY: Rutaceae
CLASSICAL CLASSIFICATION:
Charaka: Jivaniya, Shukrajanana, Madhura skandha
Sushruta: Kakolyadi gana, Vidarigandhadi gana
Bhavaprakash: Amradiphala varga
ENGLISH NAME: Citron
COMMON NAME:
Bengali: Beejapura
Hindi: Bijoura
Kannada: Madavala, Madalahannu, Madala
Punjabi: Galgal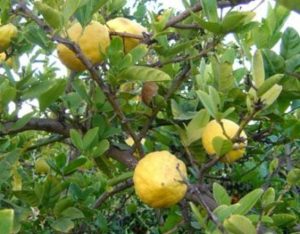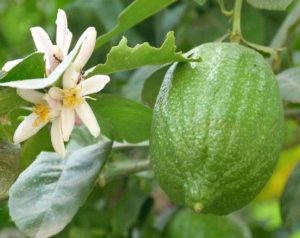 REFERENCE: BHAVAPRAKASH SAMHITA with link e Nighantu:
https://niimh.nic.in/ebooks/e-Nighantu/bhavaprakashanighantu/?mod=read
बीजपूरो मातुलुङ्गो रुचकः फलपूरकः |

बीजपूरफलं स्वादु रसेऽम्लं दीपनं लघु |

रक्तपित्तहरं कण्ठजिह्वाहृदयशोधनम् |

श्वासकासारुचिहरं हृद्यं तृष्णाहरं स्मृतम् ||१०८||

HABITAT: All over India.
BOTANICAL DESCRIPTION: This shrub has thorn, brownish bark. Leaves Are elliptic, simple, alternate , aromatic. Flower is whitish pink. Fruit is berry , fleshy , broken when ripen. Seed is smooth, each compartment has one seed.
AYURVEDIC PROPERTIES:
| | | | | | |
| --- | --- | --- | --- | --- | --- |
| RASA | GUNA | VEERYA | VIPAKA | PRABHAVA | DOSHGHNTA |
| Amla, Madhura | Laghu, Snigdha | Ushna | Amla | | Tridosha Hara |
AYURVEDIC ENERGETICS:
TASTE

PROPERTY

POTENCY

POST

DIGESTIVE EFFECT

EFFECT

ACTION

DOSHA

ACTION

Sweet, Sour

lightness, unctuous

Hot

sour

Kapha Vata pitta

Pacifying
MAJOR CHEMICAL CONSTITUENTS: Vit –c, coumarins, limettin, scoparone, scopoletin and umbelliferon, nobiletin, limonin, diosmin, beta-sitosterol and beta-Dglucoside, campesterol, stigmasterol, sitosterol and cholesterol.
THERAPEUTIC USES:
Muscle wasting and emaciation: Mature fruits are taken, skin is removed. Plain white colored pulp is taken (8-10 pieces/50 60 gram) regularly.
During pregnancy- The leaves are cooked with water and added a little salt and turmeric powder.
Acid peptic disorders-Fresh juice is used for acid peptic disorders.
Scorpion bite- A fist full of tender leaves are taken and fine paste is made. This is applied over the site of scorpion bite.
Headache –10-15 mature leaves are taken and fine paste is made. This is cooked with 100 ml of coconut oil or sesame oil till the oil is free from moisture content. This oil is used to apply over the scalp to reduce the headache.
INDICATIONS:
Raktapitta Bleeding disorders, Shwasa Asthma, Kasa Cough, Trishna Excessive thirst
Shoola Abdominal colic, Vibanda Constipation
USEFUL PART: Fruit
DOSAGE: Fruit- 10-20 ml juice
AYURVEDIC FORMULATION:
Kshara Taila
Hingvadi Churna
Kankayan Gutika,
Tarunarka Rasa
Shankha Dravaka
Madiphala Rasayana