BOTANICAL NAME: Quercus infectoria
FAMILY: Fagaceae
ENGLISH NAME: Oak galls, Aleppo galls, Mecca galls.
COMMON NAME:
Hindi: Majuphal
Tamil: Massikkaai
Telugu: Machikai
Malayalam: Majkani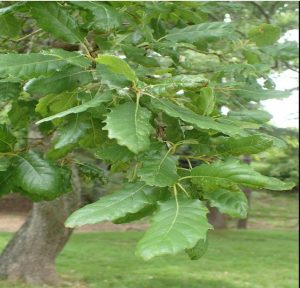 REFERENCE: BHAVAPRAKASH SAMHITA with link e Nighantu:
https://niimh.nic.in/ebooks/e-Nighantu/bhavaprakashanighantu/?mod=read
HABITAT: Greece, Syria and Iran.
BOTANICAL DESCRIPTION: Mayaphala is a small to medium tree growing to a height of 6-10 m and a native of the United States. The trunk is short and the crooked branches form an open, irregular crown. The platy bark is dark brown or black. The leaves are generally oval and up to 10 centimeters long by 3.5 wide. They are glossy green on top and wooly-haired underneath. The acorn is up to 1.7 centimeters long by 1.6 wide, not counting the cap.
AYURVEDIC PROPERTIES:
| | | | | | |
| --- | --- | --- | --- | --- | --- |
| RASA | GUNA | VEERYA | VIPAKA | PRABHAVA | DOSHGHNTA |
| Kashaya | Laghu, Ruksha | Sheeta | Katu | | Kapha Pitta Shamak |
AYURVEDIC ENERGETICS:
TASTE

PROPERTY

POTENCY

POST

DIGESTIVE EFFECT

EFFECT

ACTION

DOSHA

ACTION

Astringent

lightness, dryness

cold

pungent

Kapha pitta

Pacifying
MAJOR CHEMICAL CONSTITUENTS: The fruits gave amentoflavone hexamethyl ether, isocryptomerin and beta-sitosterol. The alcoholic extract of fruits showed 36% liver protection against carbon tetrachloride-induced toxicity at a dose of 800 mg/kg. The galls contain 50-70% gallotannic acid, gallic acid 2-4%, ellagic acid, nyctanthic acid, rubric acid, besides sugars, starch, an essential oil and anthocyanins. Galls were also found to contain beta-sitosterol, amentoflavone, hexamethyl ether and isocryptomerin.
THERAPEUTIC USES:
Oral ulcers- Decoction prepared from the gall of Mayaphala is used for gargling.
Excessive sweating- Dried powder of the gall of Quercus incana is applied over the body.
External hemorrhoids– ​​Patient is advised sitz bath in the decoction of the gall of Mayaphala.
Poisoning – Decoction of Mayaphala is given to induce emesis as part of treatment in cases of Nux vomica, Opium and Marking nut poisoning.
Dysmenorrhea-Decoction of gall of Mayaphala is given in a dose of 10-20 ml.
Leucorrhea- Decoction prepared from the gall of Mayaphala is used for washing the vaginal area.
INDICATIONS:
Stambhan Haemostatic, Keshranjan Hair coloring, Vranaropana Wound healing, Kasa Cough
USEFUL PART: Gall
DOSAGE: 1-3 gm powder.
AYURVEDIC FORMULATION:
Vajradanti manjan
Mayaphala malahara