BOTANICAL NAME: Gymnema sylvestre
FAMILY: Asclepiadaceae
CLASSICAL CLASSIFICATION:
Bhavaprakash: Guduchyadi varga
ENGLISH NAME: Cow plant
COMMON NAME:
Hindi: Gudmaar
Bengali: Medhasingi
Tamil: Shirukurum Kaay, Shakkaraikkolli
Kannada: Kadhasige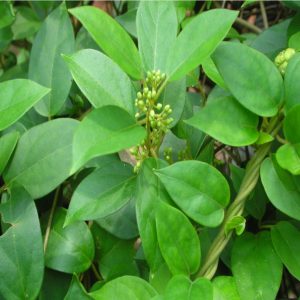 REFERENCE: BHAVAPRAKASH SAMHITA with link e Nighantu:
https://niimh.nic.in/ebooks/e-Nighantu/bhavaprakashanighantu/?mod=read
मेषशृङ्गी विषाणी स्यान्मेषवल्ल्यजशृङ्गिका |

मेषशृङ्गी रसे तिक्ता वातला श्वासकासहृत् |

रूक्षा पाके कटुस्तिक्ता व्रणश्लेष्माक्षिशूलनुत् ||२१६||

मेषशृङ्गीफलं तिक्तं कुष्ठमेहकफप्रणुत् |

दीपनं स्रंसनं कासकृमिव्रणविषापहम् ||२१७||

HABITAT: Central and Peninsular India.
BOTANICAL DESCRIPTION: It is stout, large woody climber. Young stem and leaves and pubescent. Leaves are ovate, elliptic, ovate-lanceolate. Flowers are peduncle cymes sometimes producing umbles or whorls of flowers, corolla-yellow. Fruit is rigid, lanceolate, attenuated into a beak. Seeds are 0.5 inch long, ovate, oblong, flat.
AYURVEDIC PROPERTIES:
| | | | | | |
| --- | --- | --- | --- | --- | --- |
| RASA | GUNA | VEERYA | VIPAKA | PRABHAVA | DOSHGHNTA |
| Tikta, Kshaya | Ruksha, Laghu | Ushna | Katu | | Vata Kapha Hara |
AYURVEDIC ENERGETICS:
TASTE

PROPERTY

POTENCY

POST

DIGESTIVE EFFECT

EFFECT

ACTION

DOSHA

ACTION

Bitter, Astrigent

lightness, dryness

hot

Pungent

Kapha Vata

Pacifying
MAJOR CHEMICAL CONSTITUENTS: Gymnemagenin, Quereitol, Gymnemine, Gymnemagenin
THERAPEUTIC USES:
Skin diseases – The paste of the leaf is applied over the affectedSnake poisoning area.
Diabetes –The powder of the dried leaf (4 to 6 g) or fresh juice (25-30 ml) of leaf is given to reduce the sugar level in the blood.
Snake poisoning- The fresh juice of the root of the plant is given in a dose of 25-30 ml.
Cough- The powder of the seed of Meshashringi is given with honey.
Dysmenorrhea-The decoction of the Meshashringi is given in a dose of 40-50 ml.
INDICATIONS:
Shwasa Asthma, Kasa Cough, Shoola Abdomen colic, Dantkrimi Dental caries, Hridroga Cardiac disorders, Kustha Skin disorders, Prameha Diabetes.
USEFUL PART: Root, leaves.
DOSAGE: 3-6 gm powder
AYURVEDIC FORMULATION:
Ayaskriti
Nyagrodhadi Churna,
Maha Vishagarbha Taila
Mritasanjeevani Sura