BOTANICAL NAME: Trigonella foenum
FAMILY: Papilionaceae
CLASSICAL CLASSIFICATION:
Bhavaprakash: Haritkyadi varga
ENGLISH NAME: Fenugreek
COMMON NAME:
Hindi: Methi
Punjabi: Metha
Kannada: Mentiya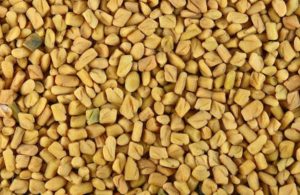 REFERENCE: BHAVAPRAKASH SAMHITA with link e Nighantu:
https://niimh.nic.in/ebooks/e-Nighantu/bhavaprakashanighantu/?mod=read
मेथिकामेथिनी मेथी दीपनी बहुपत्रिका ।

बोधिनी बहुबीजा च ज्योतिर्गन्धफला तथा ॥१३॥

वल्लरी चन्द्रिका मन्था मिश्रपुष्पा च कैरवी ।

कुञ्चिका बहुपर्णी च पीतबीजा मुनिच्छदा ॥९४॥

मेथिकावातशमनी श्लेष्मघ्नीज्वरनाशिनी ।

ततः स्वल्पगुणावन्या वाजिनां सा तु पूजिता ॥९५ ॥

HABITAT: Several parts of India
BOTANICAL DESCRIPTION: It is an aromatic plant resembling a large clover that reaches from 30-60 cm (1-2 ft.). The flower of the plant is white or yellowish white, axillary, and has 5 petals which make up what is referred to as banner, wing and keel. The banner is the largest upper petal and has two lobes, which is why it appears as being two petals fused together. Two smaller petals form the wings, and the last two are usually fused together and make up the keel below the wings. Leaves are the pinnate and trifoliate compound leaves. The leaflets are toothed.
The flowers produce seed pods that are six inches (15 cm) long and resemble string beans, but Methi fruits grow upright. Each pod contains 10 to 20 dull yellow, smooth, hard, and elongated seeds. They are shaped like a rhomboid and have a deep groove running obliquely from one side which divides each seed into two parts; a larger .2-.5 cm long and smaller .15-.35 cm. The fruit pods are 2-3 inches long with a long persistent beak.
AYURVEDIC PROPERTIES:
| | | | | | |
| --- | --- | --- | --- | --- | --- |
| RASA | GUNA | VEERYA | VIPAKA | PRABHAVA | DOSHGHNTA |
| Katu | Laghu snigdha | Usna | Katu | | Kaphavata hara |
AYURVEDIC ENERGETICS:
TASTE

PROPERTY

POTENCY

POST

DIGESTIVE EFFECT

EFFECT

ACTION

DOSHA

ACTION

pungent

lightness, unctuous

hot

pungent

Kapha Vata

Pacifying
MAJOR CHEMICAL CONSTITUENTS: Steodidal saponins – diosgenin & gitogenin from seeds; Tigogenin, Trigonelloside, Yomogenin,Tetosides,Graceunin A,B,C,H,I,J,K,L,M; trigofoenosides, oil, choline, trigonelline, yamogenin, gitogenin, diosgenin, tigogenin and neotigogens, etc. vitamin C, niacin, potassium, lysine and L-tryptophan, steroidal saponins (diosgenin, yamogenin, tigogenin, and neotigogenin), iron, copper, manganese, magnesium, phosphorus etc.
THERAPEUTIC USES:
Diabetes – 5 grams once or twice a day of seed or seed powder is useful in diabetes. Either the seeds can be chewed or swallowed or it can be made into paste with water, rolled into the form of tablets. The seeds can be soaked in water overnight for easy consumption.
Bloating, gastritis- A teaspoon of fenugreek powder or seeds is added to a cup of fat-less buttermilk. A pinch of hing (asafoetida) can be added to it. This is consumed at night, after food.
Hemorrhoids- 5-10 grams seeds are taken and cooked well with a cup of water and decoction is made. This is consumed while it is lukewarm along with half a spoon of ghee.
Cholesterol– 10 gram fine powder of fenugreek is administered along with warm water (or buttermilk).
INDICATIONS:
Aruchi Anorexia, Grahani IBS, Prameha Diabetes, Jwara Fever
USEFUL PART: Seeds, whole plant
DOSAGE: 3-6 gm of drug in powder form
AYURVEDIC FORMULATION:
Mustakarishta
Mritasanjivani Sura