BOTANICAL NAME: Phaseolus trilobus
FAMILY: Papilionaceae
CLASSICAL CLASSIFICATION:
Charaka: Jivaniya, Shukrajanana, Madhura skandha
Sushruta: Kakolyadi gana, Vidarigandhadi gana
Bhavaprakash: Guduchyadi varga
ENGLISH NAME: Wild bean
COMMON NAME:
Punjabi name: Mugvan
Bengali name: Muganee
Hindi name: Jangli moong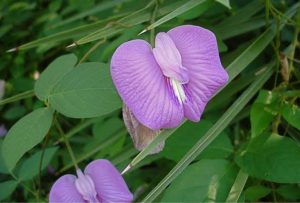 REFERENCE: BHAVAPRAKASH SAMHITA with link e Nighantu:
https://niimh.nic.in/ebooks/e-Nighantu/bhavaprakashanighantu/?mod=read
मुद्रपर्णी काकपर्णी सूर्यपर्ण्यल्पिका' सहा ॥५२॥

काकमुद्गा च सा प्रोक्ता तथा मार्जारगन्धिका ।

मुद्गपर्णी हिमा रूक्षा तिक्ता स्वादुश्च शुक्रला ॥५३॥

चक्षुप्या क्षतशोथघ्नी ग्राहिणी ज्वरदाहनुत् ।

दोषत्रयहरी लघ्वी ग्रहण्यर्शोऽतिसारजित् ॥५४॥

HABITAT: It is found almost all over India.
BOTANICAL DESCRIPTION:
It is a procumbent creeper bearing small white flowers. The roots are long and in cylindrical pieces, external surface brownish-gray, rough due to secondary roots, and fibrous. Stem is grooved, slender, glabrous, pale green. Leaves are fibrous Leaf, alternate, pinnately trifoliate, petioled; leaflets palmately 3-lobed, 1.3 to 2.5 cm long; mid lobe large, obovate spathulate, lateral lobe oblique and small, margin ciliate, apiculate, pale green in color. Flowers are Sessile or very shortly pedicelled; small, yellow with conspicuous persistent bracts and bracteole; calyx, gamosepalous, campanulate, corolla papilionaceous. Fruit is pod; 2.5 to 6 or 7 cm long, 3 mm thick; grayish-black; linear or rarely oblong, torose, subcylindrical, smooth, glabrous, recurved or reflexed, 6 to 12 seeded. Seed are Gray, smooth, with 2 punctate, shortly linear hilum and without strophiole.
AYURVEDIC PROPERTIES:
| | | | | | |
| --- | --- | --- | --- | --- | --- |
| RASA | GUNA | VEERYA | VIPAKA | PRABHAVA | DOSHGHNTA |
| Madhura | Laghu, ruksha | Sheeta | Madhura | None | Tridosha Shamak |
AYURVEDIC ENERGETICS:
TASTE

PROPERTY

POTENCY

POST

DIGESTIVE EFFECT

EFFECT

ACTION

DOSHA

ACTION

Sweet

lightness, dryness

cold

sweet

Kapha Vata pitta

Pacifying
MAJOR CHEMICAL CONSTITUENTS: Vitexin, Kaempferol, Luteolin, quercetin
THERAPEUTIC USES:
Wound – Paste of root and leaves is applied over wounds.
Skin detox-The de-husked gram is taken and fine powder is made. This is mixed with water and fine paste is made. This is applied over the face, like any of the face packs. On drying it is gently removed.
Excessive thirst -The wild gram soup prepared by adding little salt and pepper is taken regularly. This improves hunger but pacifies the thirst.
Improve Digestion-The wild gram with husk is cooked well with sour buttermilk. This is macerated well and taken once, preferably in the evening. While cooking, pepper or dry ginger and little salt can be added.
INDICATIONS:
Kshata Injury, Shosha Emaciation, Grahani IBS, Krimiroga Intestinal worms
Daha Burning sensation, Jwara Fever
USEFUL PART: Whole plant
DOSAGE: 3-5gm
AYURVEDIC FORMULATION:
Mahanarayana Taila
Amritprash Ghrita
Asoka Ghrita
Vidaryadi Ghrita
Dhanvantara Taila
Brahma Rasayana
Bala Taila
Ratnagiri Rasa