BOTANICAL NAME: Raphanus sativus
FAMILY: Cruciferae
CLASSICAL CLASSIFICATION:
Bhavaprakash: Shaka varga
ENGLISH NAME: Radish
COMMON NAME:
Hindi name: Muli
Punjabi name: Moolak, Moolee, Moola
Kannada name: Moolangi, Moolaogi, Mullangi, Mugunigadde
Bengali name: Mula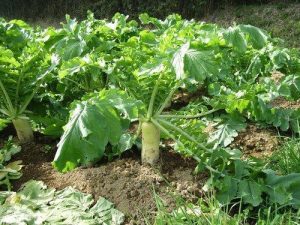 REFERENCE: BHAVAPRAKASH SAMHITA with link e Nighantu:
https://niimh.nic.in/ebooks/e-Nighantu/bhavaprakashanighantu/?mod=read
मूलकं द्विविधं प्रोक्तं तत्रैकं लघुमूलकम् ।

शालामर्कटकं विस्त्रं शालेयं मरुसम्भवम्॥९९॥

चाणक्यमूलकं तीक्ष्णं तथा मूलकपोतिका ।

नेपाल मूलकं चान्यत्तद्भवेद्भजदन्तवत् ॥१००॥

लघुमूलं कटूष्णं स्याद्रुच्यं लघु च पाचनम् ।

दोषत्रयहरं स्वर्यं ज्वरश्वासविनाशनम् ॥१०१॥

नासिकाकण्ठरोगघ्नं नयनामयनाशनम् ॥१०२॥

HABITAT: All over India
BOTANICAL DESCRIPTION: Annual or biennial herbs, glabrous to sparsely pubescent with simple trichomes. Rootstocks are fleshy, fusiform and sometimes napiform, taproot. Stem erect, ascending, leafy, usually simple at the base, branched above, densely pubescent near the base and glabrous above. Basal leaves in rosulate, oblanceolate-oblong to ovate in outline, margin lyrate pinnatifid to pinnatisect with 3-7 pairs, rarely undivided, lateral lobes near the base smaller gradually becoming larger towards suborbicular terminal lobe, margins along the lobes dentate, apex obtuse, petiole about 1-25 cm long, cauline leaves smaller, distal, broadly ovate to lanceolate, lamina not divided, base not auriculate, margin dentate, apex obtuse to acute, petiole subsessile to sessile. Inflorescence racemes, many flowered, elongated in fruit, up to 40 cm long in fruit, ebracteate. Flowers bisexual, white, cream white, pale yellow, purple, pink, blue, with visible dark veins, pedicel erect or slightly curved, divaricate, slender, ascending, sepals 4, erect, linear oblong, inner lateral pair base slightly saccate, outer pair slightly hooded below the tips, sparsely pubescent, petals 4, obovate-oblong to spathulate, much longer than sepals, with distinct dark brown veins, margins entire, apex rounded to subemarginate, claw distinct. Stamens 6, tetradynamous, filaments not dilated near the base, not appendaged, about 5-12 mm long, anthers linear-oblong, apex obtuse, nectar glands 4, lateral and median glands present. Ovary superior, bicarpellary, awl-shaped, ovules 10-12. Fruit siliqua or silicle, indehiscent, linear cylindrical lomentum, lanceolate, ellipsoid, biarticulated, slightly constricted between 3-8 seeds, sessile, terete, erect or slightly curved, smooth, valvular segments about 1-4 mm long, terminal segment many seed, slightly constricted along 1 seeded joints at maturity, beak slender, about 1-3 cm long, valves glabrous, replum rounded, septum complete, style about 1-5 cm long, stigma capitate, slightly bilobed. Seeds uniseriate, brown, plump, ovate-ovoid, about 2.5-4 mm long, not winged, surface minutely reticulate or smooth.
AYURVEDIC PROPERTIES:
| | | | | | |
| --- | --- | --- | --- | --- | --- |
| RASA | GUNA | VEERYA | VIPAKA | PRABHAVA | DOSHGHNTA |
| Katu, tikta | Laghu | Usna | Katu | | Tridoshhara |
AYURVEDIC ENERGETICS:
TASTE

PROPERTY

POTENCY

POST

DIGESTIVE EFFECT

EFFECT

ACTION

DOSHA

ACTION

Bitter, Astringent

Lightness

hot

Pungent

Kapha Vata pitta

Pacifying
MAJOR CHEMICAL CONSTITUENTS: Seeds- Sulforaphane, Sitosterol, Stearic acid, Castasterone and brassinolide Leaves- P-coumaric, ferulic and caffeic acids.
The root contains many alkaloids, glucosinolates, brassinosteroids, and flavonoids.
THERAPEUTIC USES:
Obesity- 1-2 big radish roots are chopped well. This is added to 3-4 cups of water and kept for 1-2 hours. Later it is filtered and throughout the day this water is used for drinking.
Cholesterol-Half cup of radish juice is mixed with equal quantity of water and a spoon of lemon juice. This is taken in an empty stomach daily for 30-40 days.
Eyecare and night blindness– Fresh and green leaves of radish are taken and on crushing, juice is obtained. This juice is taken in fresh form in the dose of 40-50 ml twice daily, before food.
Leucoderma– 1-2 teaspoons of radish fruit pieces, 50 ml of radish juice is cooked with 100 ml of sesame oil. Cooking is continued till all the moisture is emptied from the oil. Then it is filtered and stored. Regular application of this oil over the lesions of leucoderma has good benefits followed with suitable internal medication.
Skin detox-1-2 roots of radish are taken and made into fine paste. This is applied over the skin/face. This is retained for 15-20 minutes and washed thoroughly (avoid this if the skin is sensitive to radish and if you develop allergic rashes)
INDICATIONS:
Gulma Tumor, Jwara Fever, Hridroga Cardiac disorders, kantha roga Throat disorders, Akshi roga Eye disorders
USEFUL PART: Tuberous root, Leaf, Seeds
DOSAGE: 1-3 gm of drug in powder form
AYURVEDIC FORMULATION:
Sarshapadi lepa
Mahamoolak kashaya