BOTANICAL NAME: Marsdenia tenacissima
FAMILY: Asclepiadaceae
CLASSICAL CLASSIFICATION:
Charaka: Stanya Shodhana
Sushruta: Aragvadhadi, Patoladi
Bhavaprakash: Guduchyadi varga
ENGLISH NAME: White nishoth
COMMON NAME:
Hindi- Murva, jartor
Kannada- Koratige Hambu, Halukaratige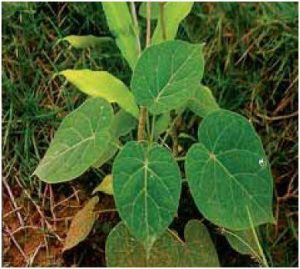 REFERENCE: BHAVAPRAKASH SAMHITA with link e Nighantu:
https://niimh.nic.in/ebooks/e-Nighantu/bhavaprakashanighantu/?mod=read
मूर्वा मधुरसा देवी मोरटा तेजनी नुवा ।

मधुलिका मधुश्रेणी गोकर्णी पीलुपर्ण्यपि ॥२४॥

मूर्वा सरा गुरुः स्वादुस्तिक्ता पित्तास्रमेहनुत् ।

त्रिदोषतृष्णाहृद्रोगकण्डूकुष्ठज्वरापहा ॥२४५॥

HABITAT: All over India
BOTANICAL DESCRIPTION: Murva is an extensive twining shrub which is found all over India having milky exudate. The leaf is velvety in nature and 5-7 inch in length and 3-5 inch in width. The flowers are greenish yellow. The fruits grow up to 5 inch long. The roots are cylindrical, yellow colored outside with dark brown patches and slightly bitter in taste.
AYURVEDIC PROPERTIES:
| | | | | | |
| --- | --- | --- | --- | --- | --- |
| RASA | GUNA | VEERYA | VIPAKA | PRABHAVA | DOSHGHNTA |
| Tikta kashya | Guru, ruksha | Usna | Katu | | Kapha Vata hara |
AYURVEDIC ENERGETICS:
TASTE

PROPERTY

POTENCY

POST

DIGESTIVE EFFECT

EFFECT

ACTION

DOSHA

ACTION

Bitter, Astringent

Heaviness, Dryness

hot

Pungent

Kapha Vata

Pacifying
MAJOR CHEMICAL CONSTITUENTS: The bark of the shoots contains milky juice containing caoutchouc. The root and seed contain pregnane glycosides. The stem of the plant contains glycoside called tenacissoides A-E. Apart from these, the plant also contains Marsdenin, D- Cymarose, Asclepobiose, D Canarose and Cissogenin.
THERAPEUTIC USES:
Constipation, hemorrhoids-Roots are taken and decoction is made (dry roots can also be used). 30 ml of the decoction is administered along with a teaspoon of palm jaggery.
Vata disorders-The lukewarm decoction of Murva stem is effective in Vata disorders.
Goiter, syphilis-Whole plant decoction for goiter, syphilis is used.
Cough-The fresh juice of the root or its powder is mixed with honey and given to lick.
Type II DM -Root bark powder is given with buttermilk.
INDICATIONS:
Arsa Hemorrhoids, Jwara Fever, Trishna Excessive thirst, Krimiroga Intestinal worms, Aruchi Anorexia, Raktpitta Bleeding disorders
USEFUL PART: Root
DOSAGE: 2-6 gm (powder); 10-20 ml (decoction)
AYURVEDIC FORMULATION:
Aaraghvadadi Kwatha Churna
Patoladi Kwatha Churna
Prameha Mihira Taila
Sudarshana Churna
Ayaskriti
Lodhrasava