BOTANICAL NAME: Cyperus rotundus
FAMILY: Cyperaceae
CLASSICAL CLASSIFICATION:
Charaka: Trishna Nigrahana, Lekhaniya, Stanya Shodhana
Sushruta: Mustadi, Vachadi
Bhavaprakash: Karpuradi varga
ENGLISH NAME: Nut grass
COMMON NAME:
Hindi name: Motha, Nagarmotha
Gujarati name: Moth, Nagarmoth
Kannada name: Konnari gadde
Punjabi name: Mutha, Motha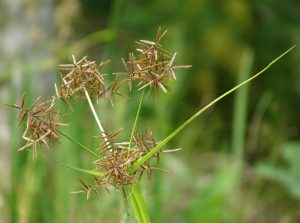 REFERENCE: BHAVAPRAKASH SAMHITA with link e Nighantu:
https://niimh.nic.in/ebooks/e-Nighantu/bhavaprakashanighantu/?mod=read
मुस्तकं न स्त्रियां मुस्तं त्रिषु वारिदनामकम् |
कुरुविन्दश्च संख्यातोऽपरः क्रोडकसेरुकः |
भद्रमुस्तञ्च गुन्द्रा च तथा नागरमुस्तकः ||७७||
मुस्तं कटु हिमं ग्राहि तिक्तं दीपनपाचनम् |
कषायं कफपित्तास्रतृड्ज्वरारुचिजन्तुहृत् ||७८||
अनूपदेशे यज्जातं मुस्तकं तत्प्रशस्यते |
तत्रापि मुनिभिः प्रोक्तं वरं नागरमुस्तकम् ||७९||
Habitat:   It is found throughout India up to an elevation of 1800 m., from Kashmir to Simla, Garhwal and Khasia hills, throughout the plains of almost all the states and ascending the mountains of the Central table- land from Mount Abu and Pune to the Nilghiri hills.
BOTANICAL DESCRIPTION: It is perennial herbs, 10-75 cm height. It consists of rhizomes and stolons having a number of wiry roots. Rhizome shows single layered epidermis, followed by 2-6 layers, suberised sclerenchymatous cells; epidermis and outer sclerenchymatous layers filled with dark brown content; ground tissue of cortex consists of circular to oval, thin-walled, parenchymatous cells with small intercellular spaces.
AYURVEDIC PROPERTIES:
RASA
GUNA
VEERYA
VIPAKA
PRABHAVA
DOSHGHNTA
Tikta, katu, Kasaya
Laghu,

Ruksha

Shita
Katu
Kapha Pitta Shamak
AYURVEDIC ENERGETICS:
TASTE

PROPERTY

POTENCY

POST

DIGESTIVE EFFECT

EFFECT

ACTION

DOSHA

ACTION

Bitter, pungent, Astringent

Dryness, lightness

cold

Pungent

Kapha pitta

Pacifying
MAJOR CHEMICAL CONSTITUENTS: Cyperene, humulin, selinene, zierone,
THERAPEUTIC USES:
Borborygmus, tastelessness-Fine powder of the roots of Musta – half a teaspoon is administered along with a teaspoon of honey.
Gastritis-10 gram of coarse powder of the rhizome is taken and decoction is made. To this a pinch of ginger powder is added and administered.
Worm infestation-Both Papaya seeds and rhizomes of Musta are taken in 2-3 gram each and fine powder or paste is made. This is administered early in the morning preferably on an empty stomach.
Breast milk purification-Rhizome is taken and rubbed with plantain juice and fine paste is made. This is administered to the breastfeeding mother.
Excessive perspiration-Fine powder of Nut grass is dusted over the body parts or over the ulcers with secretions.
IBS-In the conditions of irritable bowel syndrome, 2-3 gram of powdered Nut grass is mixed with butter milk and given to drink 2-3 times a day.
INDICATIONS:
Atisar Diarrhea, Jwara Fever, Trishna Excessive thirst, Krimiroga Intestinal worms
Aruchi Anorexia
USEFUL PART: Tuber
DOSAGE: 3-6 g. (Powder).
20-30 ml. (Kwatha).
AYURVEDIC FORMULATION:
Mustakadi kavath
Mustadi churna
Mustarishta.