BOTANICAL NAME: Sida veronicaefolia
FAMILY: Malvaceae
CLASSICAL CLASSIFICATION:
Bhavaprakash: Guduchyadi varga
ENGLISH NAME: Snake mellow
COMMON NAME:
Hindi: Kakarundah, Phrongli
Bengali: Kukurbicha
Kannada: Gandaudipe, Chikkudipe, Dadachelu, Udipe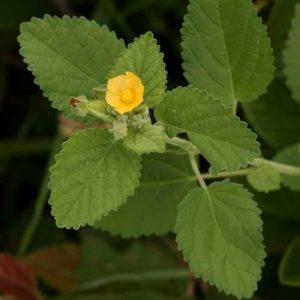 REFERENCE: BHAVAPRAKASH SAMHITA with link e Nighantu:
https://niimh.nic.in/ebooks/e-Nighantu/bhavaprakashanighantu/?mod=read
गाङ्गेरुकी नागबला झषा ह्रस्वगवेधुका ॥१४३॥
HABITAT: Found in all over India like in Assam, Andhra Pradesh, Odisha and also in Sri Lanka and Bangladesh
BOTANICAL DESCRIPTION:
Nagbala is a perennial shrub that reaches upto 1 m tall, leaves are simple, densely covered with short hairs and arranged alternately, margins are toothed. Flowers are white in color, borne in axillary chymes. Fruits are globose in shape and are 4 lobed, hairy and red in color when ripe.
AYURVEDIC PROPERTIES:
| | | | | | |
| --- | --- | --- | --- | --- | --- |
| RASA | GUNA | VEERYA | VIPAKA | PRABHAVA | DOSHGHNTA |
| Madhura, Kashaye | Guru, Snigdha, Picchila | sheeta | Madhura | | Vata Pitta Shamak |
AYURVEDIC ENERGETICS:
TASTE

PROPERTY

POTENCY

POST

DIGESTIVE EFFECT

EFFECT

ACTION

DOSHA

ACTION

Sweet, Astringent

heavy, unctuous, sticky

cold

Sweet

Vata pitta

Pacifying
MAJOR CHEMICAL CONSTITUENTS: B- phenenthylamines, quinazoline, gossypol, sterculic acid, linoleic acid etc.
THERAPEUTIC USES:
Burning micturition-Fruits and flowers decoction are used.
Cuts and bruises- Poultice prepared with nagabala leaves is applied externally
Genito urinary infections-Nagabala root bark decoction is used.
Kshatakshina -Powder of nagabala is mixed with ghee and honey. This mixture is taken in the morning.
Heart diseases– Nagabala root powder along with Arjuna bark is consumed with milk.
INDICATIONS:
Raktapitta Bleeding disorders, Kshaaye Weakness, Vrushya Aphrodisiac, Rasayani Rejuvenative
USEFUL PART: Roots
DOSAGE: 3 to 5 grams
AYURVEDIC FORMULATION:
Lakshadi Guggulu
Manasamitra Vatakam
Maha Vishagarbha Taila