BOTANICAL NAME:  Mesua ferrea
FAMILY: Guttiferae
CLASSICAL CLASSIFICATION:
Sushruta: Eladi, Vachadi, Anjanadi, Priyangvadi gana
Bhavaprakash: Karpuradi varga
ENGLISH NAME: Cobra's Saffron
COMMON NAME:
Punjabi name: Nageswar
Hindi name: Nagkesara, Pila Nagkesara
Kannada name: Nagsampige, Nagakesari
Bengali name: Nagesar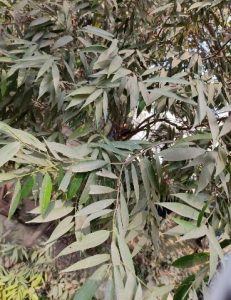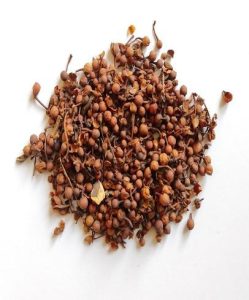 REFERENCE: BHAVAPRAKASH SAMHITA with link e Nighantu:
https://niimh.nic.in/ebooks/e-Nighantu/bhavaprakashanighantu/?mod=read
नागपुष्पः स्मृतो नागः केशरो नागकेशरः |
चाम्पेयो नागकिञ्जल्कः कथितः काञ्चनाह्ययः ||५९||
नागपुष्पं कषायोष्णं रूक्षं लघ्वामपाचनम् |

ज्वरकण्डूतृषास्वेदच्छर्दिहृल्लानाशनम् |
दौर्गन्ध्यकुष्ठवीसर्पकफपित्तविषापहम् ||६०||

HABITAT: It is occurring in the Himalayas from Nepal eastwards, Bengal, Assam, evergreen rain forests of North Kanara, Konkan, forests of Western Ghats and Andhra Pradesh.
BOTANICAL DESCRIPTION: It is an evergreen tree, about 15-18 m high with short trunk, Stamen consists of anther, connective and filament; coppery or golden brown; filament united at base forming a fleshy ring; each stamen 0.9-1.9 cm long; anther about 0.5 cm long, linear, basifixed, containing pollen grains; filament 0.8 – 1.0cm long.
AYURVEDIC PROPERTIES:
| | | | | | |
| --- | --- | --- | --- | --- | --- |
| RASA | GUNA | VEERYA | VIPAKA | PRABHAVA | DOSHGHNTA |
| Tikta, Kasaya | Ruksha, Laghu | Usna | Katu | | Kaphahara |
AYURVEDIC ENERGETICS:
TASTE

PROPERTY

POTENCY

POST

DIGESTIVE EFFECT

EFFECT

ACTION

DOSHA

ACTION

Bitter

Astringent

Lightness, Dryness

Hot

Pungent

Kapha

Pacifying
MAJOR CHEMICAL CONSTITUENTS: It contains Mesuol, Mammeuisin, Mammegin, bioflavonone called Mesuaferrone A, etc. Important chemical constituents of the plant are Mesuol, Mammeisin, Mesuagin, Mammeigin, Mesuabixanthone A, Mesuabixanthone B, Mesuaferrol, Mesuaxanthone A, Euxanthone, Mesuaxanthone B, Messianic acid, Mesuaferrone A and Mesuaferrone B.
THERAPEUTIC USES:
Hemorrhoids- 2-3 grams of Nagkesar stamens are taken and rubbed well with ghee and fine paste is made. This is applied to the anal region in cases of haemorrhoids.
Uterus cleanse-Equal amount of Nagkesar stamens and seeds of Shatapushpa (sounf) are taken and fine powder is made or else its decoction is made. This is consumed twice daily for 3-4 days regularly. This helps to clear and cleanse the uterus in the conditions like abortion and so as to clear the uterus after normal delivery.
Burn wounds, ulcers-The seed oil is mixed with coconut oil in the ratio of 1:4 and applied over the burns and scalds. It heals the wounds and helps to prevent discoloration.
Glowing skin- 1-2 pinches of stamens are taken and rubbed well with water first. Later it is ground/rubbed well with red sandalwood (Raktachandan). This paste is applied over the face after thorough wash of face.
INDICATIONS:
Jwara Fever, Arsha Hemorrhoids, Shopha Swelling, Chardi Vomiting, Kustha Skin disorders, Trishna Excessive thirst.
USEFUL PART: Stamens.
DOSAGE: 1-3 g. of the drug in powder form.
AYURVEDIC FORMULATION:
Candanabalakasadi Taila
Kumaryasava
Nagkesaradi churna