BOTANICAL NAME: Arundo donax
FAMILY: Graminae
Classical Classification
Sushrut- Trinpanchmoola
Bhav Prakash– Guduchyadivarga
ENGLISH NAME: Great Reed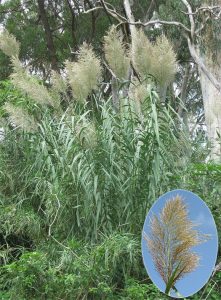 REFERENCE: BHAVAPRAKASH SAMHITA with link e Nighantu:
https://niimh.nic.in/ebooks/e-Nighantu/bhavaprakashanighantu/?mod=read
नलः पोटगलः शून्यमध्यश्च धमनस्तथा |

नलस्तु मधुरस्तिक्तः कषायः कफरक्तजित् |

उष्णो हृद्बस्तियोन्यर्तिदाहपित्तविसर्पहृत् ||१३६

HABITAT: Downward Himalya from kashmir to Assam, Nepal.
BOTANICAL DESCRIPTION: A tall reed with hollow stem, perennial reed grass, 6 -12 feet high. Leaves: Tapering from base .Axis of spikelet is enlongate, glabrous Flowering : Silky hairy Panicle thyrisiform.
AYURVEDIC CHARACTERISTICS
RASA

GUNA

VEERYA

VIPAKA

PRABHAVA

DOSHGHNTA

Madhur

Kashae

Tikat

Laghu

Snigdh

Sheeth
Madhur
Vata Pitta Shamak
AYURVEDIC ENERGETICS
TASTE
PROPERTY
POTENCY
POST DIGESTIVE

EFFECT

EFFECT ACTION
DOSHA ACTION

Astingent

Bitter

Light

Slimy

Cold

Sweet

Pacifying Vata Pitta
MAJOR CHEMICAL CONSTITUENTS: Donaxine, Donaxerine
THERAPEUTIC USES
Wound-The paste of the root is mixed with paste of neem leaf and applied over wound.
Dysuria-Cold infusion of the root is given in a dose of 50 ml
Eczema-The paste of the root of nala is applied over the area of the skin.
INDICATION:
VastiShoola Abdominal colic pain, Daha Burning sensation, Mutrakricha Dysuria, Visarpa Herpes, Yoni shool vaginal pain.
USEFUL PART: Mool
DOSAGE: 50- 100 ml (kwath)
AYURVEDIC FORMULATION:
1 Trinpanchmol
2 Panchtrinsheer