BOTANICAL NAME: Cocus nucifera
FAMILY: Palmae
CLASSICAL CLASSIFICATION
Bhavpraksh–  Amradiphalavarga
ENGLISH NAME: Cocunut palm
COMMON NAME: Narikela
Kannad: Tengu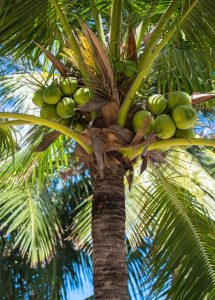 REFERENCE: BHAVAPRAKASH SAMHITA with link e Nighantu:
https://niimh.nic.in/ebooks/e-Nighantu/bhavaprakashanighantu/?mod=read
HABITAT: It is present in Sea area, Bengal, Udisha, etc.
BOTANICAL DESCRIPTION:
Tall trees (Look like a palm). Trunk high, Annulate often curve rarely branching .Base thickening with mass of rootlet .Ringlike leaf scars on trunk .Leaves are Leaflet equidistance ,Linear lanceolate, 2 -3 feet long petiole stout.
SPADIX: Stout and divided into numerous parts.
AYURVEDIC CHARACTERISTICS
RASA

GUNA

VEERYA

VIPAKA

PRABHAVA

DOSHGHNTA

Madhur
Guru

Ruksh

Sheet
Madhur
————
Pithshamak
AYURVEDIC ENERGTICS
| | | | | | |
| --- | --- | --- | --- | --- | --- |
| TASTE | PROPERTY | POTENCY | POST DIGESTIVE EFFECT | EFFECT ACTION | DOSHA ACTION |
| Sweet | Heaviness, dryness | Cold | sweet | | Pitta pacifying |
MAJOR CHEMICAL CONSTITUENTS: Caprolicacid, Aceticacid, Leucin, isoleucin, Carol, Serine, proline.
THERAPEUTIC USES
Acidity– Alkali prepared from coconut is given in a dose of 2-3g with tender coconut water or honey.
Diarrhea– Decoction of the inflorescence of coccus nucifera is given in a dose dose of 30-40ml.
INDICATIONS:
Jwar Pyrexia, Daha Burning sensation, Trishna Excessive thirst.
USEFUL PART: Panchang, Seed
DOSAGE: Svaras (5- 10 ml)
AYURVEDIC FORMULATION:
Bringraj oil
Shadbindu oil
Bringrajadi Churan
Bringraj Grht