BOTANICAL NAME: Azadirachta indica
FAMILY: Meliaceae
CLASSICAL CLASSIFICATION:
Charaka: Kandughna,Tikka Skandha
Sushruta: Aragwadhadi, Guduchyadi and Lakshadi
Bhavaprakash: Guduchyadi varga
ENGLISH NAME: Indian Lilac, Margosa Tree, Neem tree
COMMON NAME:
Hindi- Nim, Nimb
Punjabi- Nim, Nimba, Bakam
Kannada- Bevu, Olievevu, Kahibevu
Bengali- Nim, Nimgacha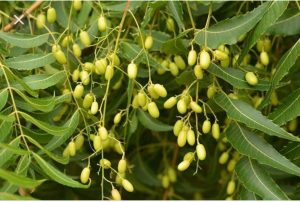 REFERENCE: BHAVAPRAKASH SAMHITA with link e Nighantu:
https://niimh.nic.in/ebooks/e-Nighantu/bhavaprakashanighantu/?mod=read
निम्बः स्यात्पिचुमर्दश्च पिचुमन्दश्च तिक्तकः |

अरिष्टः पारिभद्रश्च हिङ्गुनिर्यास इत्यपि ||८१||

निम्बः शीतो लघुर्ग्राही कटुपाकोऽग्निवातनुत् |

अहृद्यः श्रमतड्कासज्वरारुचिकृमिप्रणुत् ||८२||

व्रणपित्तकफच्छर्दिकुष्ठहृल्लासमेहनुत् |

निम्बपत्रं स्मृतं नेत्र्यं कृमिपित्तविषप्रणुत् ||८३||

वातलं कटुपाकञ्च सर्वारोचककुष्ठनुत् |

निम्बफलं रसे तिक्तं पाके तु कटुभेदनम् |

स्निग्धं लघूष्णं कुष्ठघ्नं गुल्मार्शःकृमिमेहनुत् ||८४ ||

HABITAT: found all over India
BOTANICAL DESCRIPTION:
A tree 12-15ft. in height, common, wild or cultivated throughout
India. Leaves are imparipinnate, 20-30cm long, leaflets usually opposite, serrate
Flowers are Small, white, honey scented, calyx lobes 5, petals 5, staminal tube is as long as petals.
Fruit is drupe, oblong, single seeded. Flowering time is from feb to april and it bears fruits in april-june.
AYURVEDIC PROPERTIES:
| | | | | | |
| --- | --- | --- | --- | --- | --- |
| RASA | GUNA | VEERYA | VIPAKA | PRABHAVA | DOSHGHNTA |
| Tikta, kashaye | Laghu, Ruksa | Sita | Katu | | Kaphahara, Pittahara |
AYURVEDIC ENERGETICS:
TASTE

PROPERTY

POTENCY

POST

DIGESTIVE EFFECT

EFFECT

ACTION

DOSHA

ACTION

Bitter, astrigent

Lightness, Dryness

cold

Pungent

Kapha pitta

Pacifying
MAJOR CHEMICAL CONSTITUENTS: Nimbin, Nimbiol
15-Acetoxy-7-deacetoxydihydroazadirone (neeflone), nonacosane (saturated hydrocarbon)
THERAPEUTIC USES:
Antifungal and antibacterial paste: The leaves of neem can be used to cure fungal and bacterial infections. Make a paste of tree leaves and apply it to the infection for relief. Neem leaves paste is also used for treating chickenpox boils.
Arthritis-You can apply neem oil in your affected area.
Dental health: Chewing neem leaves can be beneficial for maintaining good oral health. Small branches or twigs can be used for brushing your teeth.
Boost immunity: Add neem to your tea to boost immunity in your body against diseases such as common cold and fever.
Acne: Apply Neem oil on acne.
INDICATIONS:
Kasa Cough, Jwara Fever, Krimi Intestinal worms, Kustha Skin disorders, Vrana wounds, Aruchi Anorexia, Sotha Inflammation.
USEFUL PART: Flower, fruit, Stem bark
DOSAGE: 2- 4 g powder
10 – 20 ml kwatha
AYURVEDIC FORMULATION:
Nimbadi kvatha
Nimbadi churna
Sudarshan churna
Panchatikta guggulu ghrita